---
A leather briefcase or satchel has seemingly always conveyed a level of sophistication and professionalist. These days, it can also support your values and demonstrate your commitment to animal welfare. Vegan leather bags provide an animal free option that is both ethical and looks amazing. So what are the best vegan bags and what makes them great?
The best vegan leather bags for men look great and are made to last so that they don't need to be replaced. They are made using innovative materials that are less damaging to the environment like OEKO-TEX certified ecological microfiber, MULBTex plastic free vegan leather and recycled PET for linings. They are also made by companies that practice fair labor practices and manufacturing transparency.
Let's look at some great vegan leather men's bags and the progressive brands committed to providing cruelty-free options.
---
MAHI offers a wide range of vegan bags made of cork leather including duffels, backpacks, messengers and more. Cork is an exceptional vegan option as it's animal cruelty free, it is not made from plastic derivatives and cork is a sustainable and regenerative resource. The cork leather material used in MAHI's bags is very lightweight, is water-resistant, and truly looks and feels like cork. It's a distinct, earthy look that will inspire interest from your coworkers and friends.
The company also donates $1.50 of every sale to Frank Water, a charity providing aid to people in India without access to clean drinking water. MAHI has donated over $50,000 helping over 3,230 people in need.
---
Since 2009, Gunas has been offering high fashion and zero cruelty.  The brand offers vegan totes, satchels, cross-body bags, wallets and backpacks. Based in New York, Gunas sources and manufactures bags and shoes using artisan and small-scale ethical manufacturers from countries like India, South Korea, Mexico, Brazil and Hong Kong. 
The company's great looking bags are made with MULBTex, a plastic free vegan leather that is both strong and waterproof. The bag interiors are lined with material made from recycled plastic.
---
ASHOKA Paris is a French brand producing high-end, ethical, and vegan bags and accessories. The company received the Peta Fashion Award for best bag in 2018 & 2019.  They offer a nice selection of backpacks and briefcases. In addition to the vegan leather exteriors, they also line the bags with PET material made from recycled plastic bottles. ASHOKA Paris also donates a portion of its profits to animal rights groups.
---
Doshi FCSA (Fine Clothes Shoes and Accessories) offers vegan bags, briefcases, belts, backpacks, wallets and accessories for women and men. The brand offers some very sophisticated-looking vegan leather briefcases.  Doshi FCSA uses microfiber for its vegan leather, which the company claims is higher quality and better replicates the feel of leather than standard PU vegan leather. Doshi also gives back a minimum of 5% of revenue to charities benefiting animals, people and the environment.
---
Every NAE product is environmentally friendly, made with ecological, sustainable, and recycled materials. NAE stands for No Animal Exploitation. Their mission is to propose an animal-friendly and ecological alternative against human exploitation. The black messenger cross bag is made with OEKO-TEX certified ecological microfiber and a cotton liner. NAE also offers backpacks made of recycled PET material.
---
Von Holzhaousen sells men's and women's accessories made from Tecknik–Leather, an animal free and sustainable leather alternative made from recycled plastic that looks and feels like real leather. Tecknik-Leather is water, stain and scratch resistant, is lightweight and has a low carbon footprint. Von Holzhausen offers a wide selection of men's vegan leather bags including backpacks, totes, duffels and iPad and laptop sleeves.
---
Watson & Wolfe makes vegan bags, belts, wallets and other accessories using sustainable materials. Their materials are made using less chemicals and water than with standard practices and are produced in factories that have eco and sustainability credentials. Their vegan leather Travel Pouch & E-Reader Case is a slim, lightweight option for minimalist travelers.  The bag is handmade with premium, vegan leather and lined with material made from 100% recycled plastic bottles.
---
All of the Will's Vegan vegan leather products look like real, high quality leather and are just beautiful. They offer one of the broadest ranges of men's vegan leather bags including weekender duffels, backpacks, satchels, briefcases and messenger bags. 
Will's Vegan creates ethical vegan products made in Italy & Portugal under European Union employment that follow discrimination, health and safety law.  The company's online vegan store operates a plastic free carbon neutral supply chain using sustainable materials.
---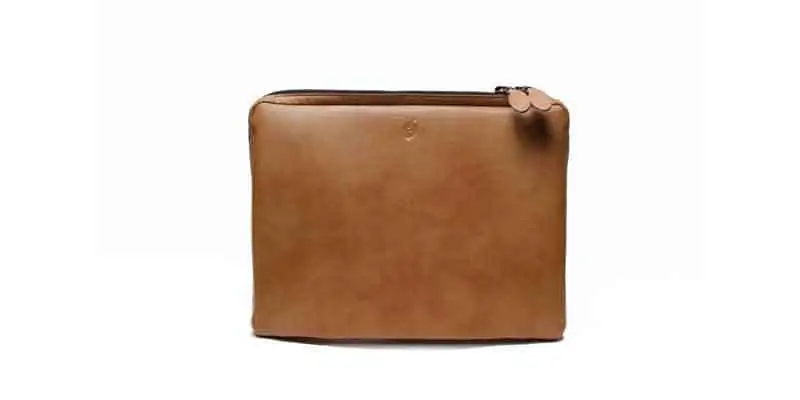 Brave Gentleman makes a full range of men's vegan apparel and accessories from shoes and belts to bags and suits. Featuring upscale, sophisticated designs, the brand was named Menswear Brand of the Year and Most Influential Designer by PETA. The Faunus portfolio is made in New York City using Italian, hi-tech PU microfiber that is Ecolabel-Certified by the European Union.
---
jean & jax is a Montreal-based luxury vegan handbag brand that creates fashionable and high quality handbags at an affordable price.  They offer a nice range of men's  vegan leather bag styles including weekender duffels, backpacks, messenger bags and laptop bags.  
All of jean & jax's PU fabrics and hardware are certified at EU standards to ensure no hazardous materials are used in their content or manufacturing process and the company never uses PVC.
---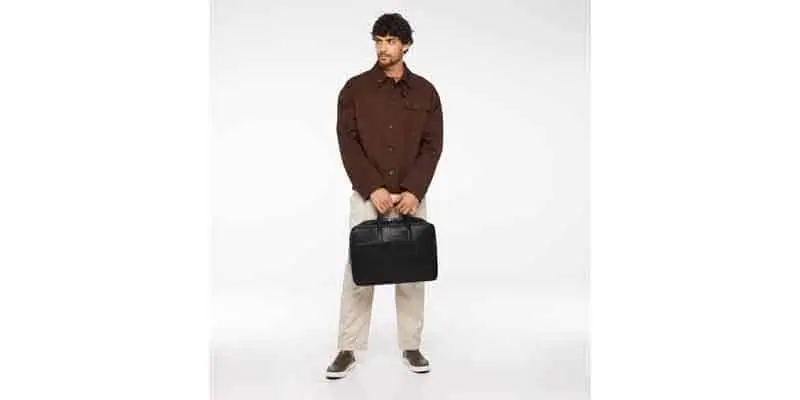 Matt & Nat offers a gorgeous selection of men's vegan backpacks, totes, messenger bags, briefcases and weekenders. The company is committed to not using leather or any other animal based materials in its designs. 
Matt & Natt recycles over 9 million plastic bottles annually in the production of its products. The company has explored a broad range of animal free materials including PU leather, PVB which is made from recycled windshield resin, fruit skin fibers and material from recycled plastic bottles.
Images via brands.