---
I love flannel shirts. I've been known refer to fall and winter as a hybrid time of year called flannel season.  I love them because flannels are versatile, rugged, durable, often gain character with age, and suggest an outdoorsy lumberjack vibe even when I'm out picking up groceries. And in spite of all that rugged durability, they're super cozy and warm.
While I have a couple flannels that have lasted me for years, whenever fall rolls around I inevitably want another one. My favorite way to appease that urge is to pick up a used one on Poshmark. There are plenty to choose from, they're cheaper, and it's one of the more sustainable options if you're adding to your wardrobe.
When it's time for something new though, fortunately there are a growing number of brands making sustainable men's flannel shirts. They are working to minimize their environmental impact, support the people and communities they work with, and are pushing the clothing industry as a whole to be more responsible.
What to look for in a sustainable flannel shirt?
Sustainable flannel shirts are made using eco friendly materials. The most common you'll find is organic cotton, which avoids use of harmful synthetic pesticides and fertilizers and requires less water to grow than conventional cotton. Other sustainable materials great for flannels are recycled polyester (made from recycled plastic bottles), hemp, Tencel, and wool. Many brands are also using natural, plastic-free buttons on their flannel shirts. 
Sustainable brands also work to minimize their environmental impact beyond just the materials used. Many use plastic-free or recycled packaging, offer climate-neutral shipping and encourage the donation and recycling of used garments. Some offer customers the opportunity to purchase previously used flannel shirts, which minimizes the need for additional production and materials.
And finally, brands committed to sustainability are also ensuring their employees and suppliers are being paid and treated fairly. The Fair Trade Certified™ seal is a great way to identify that the company you purchase your flannel from meets rigorous social, environmental, and economic standards. Some brands even align their mission to include improving the lives and communities of the people who work for them.
Brands Making the Best Sustainable Men's Flannel Shirts
---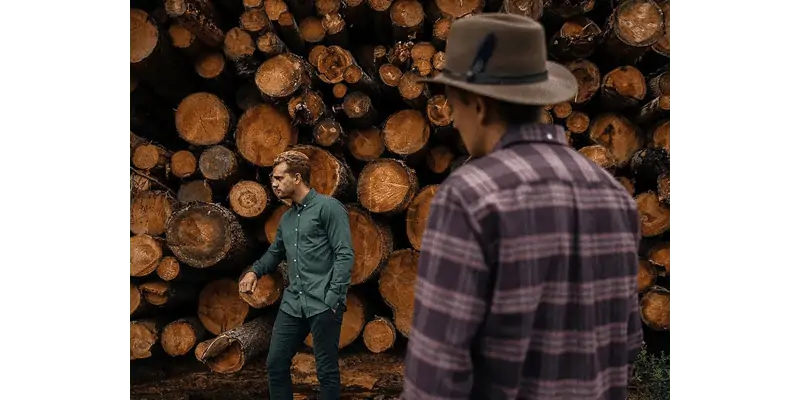 Carpasus is dedicated to doing one thing really well: making men's shirts that are stylish and high quality, under humane and transparent working conditions. The result is a broad range of well crafted mens shirts that look great. Offering probably the widest selection you'll find, Carpasus' flannel shirts are made using fair-trade organic bioRe® sustainable cotton cultivated in Tanzania. In addition to their standard flannels, the tailor-made flannel shirts allow you to submit your measurements to design your own custom shirt.
---
FInisterre's men's flannel shirts are made from 100% organic cotton and use corozo, plastic-free buttons. The brand also shows you exactly where the shirt was made, with supporting information on the production factory and supply chain. 
As a certified B Corporation, Finisterre is committed to the highest level of sustainable business practices.  The company is a rugged, surf-inspired apparel brand with an environmental focus inspired by the sea.
---
Rapanui is a sustainable brand seeking to change the fashion industry. Everything they make is designed to be sent back when it is worn out and they make new products from the materials they recover. Made from 100% organic cotton, Rapanui's flannels come in a broad range of check patterns as well as a few solid color options.
---
Faherty is a family-run business with a goal to create high-quality, sustainably-minded feel-good favorites that will bring you joy to wear. Their flannels, the Legend™ Sweater Shirt and The Movement Flannel, are just that. Featuring a broad array of great looking patterns and solid colors, both options offer stretch, durability and softness. 
Faherty supports 1% for the Planet and the Surfrider Foundation and aspires to be 90% plastic-free by the end of 2021. 77% of the brands materials are made from sustainable fibers like organic cotton, ethically sourced cashmere, recycled polyester, linen, and hemp.
---
The Vissla Eco-Zy Polar Flannel is made from 100% recycled polyester. The result is an ultra-soft flannel made with eco friendly heavyweight fleece. Vissla is a surf brand focused on sustainability to protect our oceans and is a Surfrider Foundation Surf Industry Coastal Defender. All Vissla apparel is shipped in polybags that are made from 100% post-consumer recycled materials, which are also recyclable.
---
Knowledge Cotton Apparel is a Danish eco friendly apparel company that makes its flannels from 100% brushed organic cotton, which uses 91% less water 61% less energy 46% less carbon dioxide than conventional fibers. The company became Carbon Neutral Certified in 2019 and all of their garments feature a list of sustainability certifications on the tag, such as the Global Recycle Standard, Organic Content Standard, and many more.
---
Outerknown was founded by surfers with a mission to protect natural resources, empower the people crafting their clothes, and inspire change within the industry and beyond. Their flagship flannel is so hearty and soft, they call it "The Blanket Shirt".  Made from organic cotton, this burly flannel also features corozo nut buttons. The fallen corozo nuts are naturally harvested which helps safeguard against deforestation.
---
Nudie Jeans believes in manufacturing transparency and will show you thorough details on the production of every product they offer. While clearly focused on sustainable jeans, they also offer a full range of great looking apparel. 
Nudie Jean's sustainable men's flannels are made with soft organic cotton twill and Corozo buttons. While not technically a flannel, they also offer a checked wool overshirt made from recycled wool and polyester, giving that same rugged, outdoorsy look.
---
Patagonia has been making its 100% organic cotton Fjord flannel for years, demonstrating that this classic stands the test of time.  It comes in lightweight and midweight, but the standard Fjord is a heavyweight flannel that is one of the heartiest you can find. Thick, comfortable and durable, I'm excited every year for the temperatures to drop so I can throw mine on. 
Patagonia has been leading the way in sustainable apparel and gear for years, including establishing its Worn Wear program where you can regularly find used and repaired versions of this great flannel for a discounted price.
---
Fair Harbor makes laid back sustainable men's beachwear with recycled polyester made from plastic bottles. To date, they've upcycled over 10 million plastic bottles into clothing. Their Dunewood Flannel is made from 70% recycled polyester, 28% rayon and 2% spandex, which utilizes 30 upcycled plastic bottles. This unique material creates a shirt that is not just soft, but also dries quickly and features four way stretch.
---
Prana was the first North American apparel company to bring Fair Trade Certified™ apparel to the market. To promote transparency they publish their full supply chain list and to minimize their environmental footprint they use all plastic-free packaging. 
Prana offers a range of lightweight to heavyweight flannels made from 100% organic cotton or a blend of organic cotton and recycled polyester.
---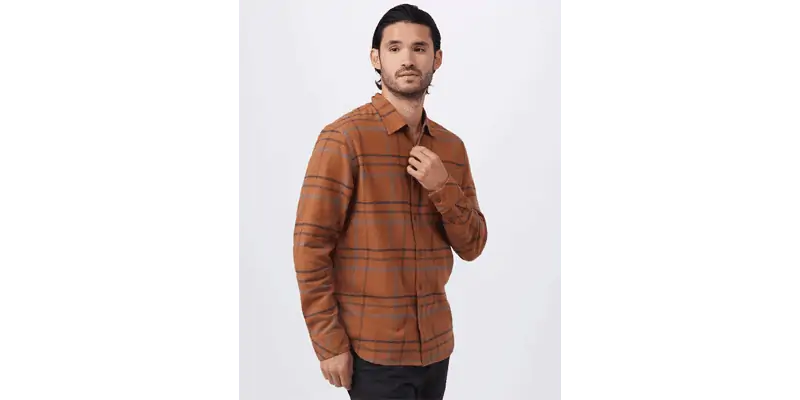 As the name indicates, Tentree plants 10 trees for every purchase and have now planted over 65 million trees. The company is Carbon Neutral Certified and is a Certified B Corporation. Tentree is also committed to ethical manufacturing and minimizing its environmental footprint by using sustainable materials. Their midweight flannel is made using 85% organic cotton and 15% hemp, and the heavyweight flannel is 100% organic cotton.
---
Taylor Stitch is dedicated to making men's apparel that is sustainably built for the long haul.  Classic styles that are made to last reduce seasonal overproduction of fast fashion and encourage us to move away from a culture of disposability. Their Yosemite shirt is a hearty mid-weight flannel with a shorter tail length designed to be worn untucked. It is made from 100% organic cotton flannel chamois.
---
Images via brands.