---
Whether you're getting slippers for a holiday gift or for your work-from-home life, it's important that they are sustainably made. And there's a good chance the cheap slippers at your nearby retail store aren't made with current best practices, like: 
Using natural fabrics
Leveraging recycled materials
Applying chemical-free processes
Utilizing plastic-free packaging
Shipping carbon neutral
Paying fair wages
Providing supply chain transparency
Securing third party sustainability and fair labor certifications 
Fortunately, there are some brands making sustainable men's slippers that are continually pushing to be more sustainable. Here's a list of the brands making the most sustainable men's slippers and what makes them great:
The 11 Best Sustainable Men's Slippers
---
Thought is a sustainable brand that started in 1995 with a small collection of beachwear made of natural materials. It has grown to make a wide range of sustainable and ethical apparel, including some very cozy slippers. The Yoko Wool Men's Slippers are plastic free and made of 100% merino wool. Thought uses recycled paper for its labeling and mailing bags and their garments bags are made from compostable cornstarch.
---
Naadam makes sustainable cashmere by partnering directly with local herders in the Mongolian Gobi Desert. The brand is committed to delivering high-quality cashmere apparel at a price that's fair to consumers as well as to the herders. They're committed to sustainable and ethical business practices and publish an annual Social and Environmental Impact Report.
Naadam offers a range of slippers made from materials such as wool, cashmere, recycled polyester and Bloom™ insoles made from an algae based foam. Made with premium materials, their slippers are breathable yet extremely cozy and warm.
---
The Allbirds Wool Dweller slippers are made with 60% upcycled scraps from their wool shoes and 40% GRS Certified Recycled Polyester. They also feature an FSC® Certified natural rubber outsole. The slippers are promoted as carbon neutral through using natural materials and offsetting emissions by funding high impact carbon projects.
My personal slipper choice isn't marketed as a slipper at all. The Allbirds Wool Lounger is a slip on shoe, but it's as comfy as any slipper I've ever worn. Made with a soft ZQ merino wool, the Wool Lounger is toasty, breathable and machine washable. The best part is, they are a minimalist slip-on shoe so you can go from lounging in them to wearing them around town.
---
Kyrgies makes hand-crafted, natural wool house slippers designed to be warm in the winter and cool in the summer. The slippers are made by artisans in Bishkek, Kyrgyzstan using fair trade labor practices. Kyrgies is Climate Neutral Certified, is a member of 1% for the planet and contributes to One Tree Planted to support global reforestation.
Kyrgies sustainable men's slippers are handcrafted with wool made from mulesing-free sheep raised on small family-run farms. They are committed to not generating waste during production and all the wool that does not become slippers is reprocessed and used as residential insulation. The slippers are also colored using low-impact, chemical-free dyes.
---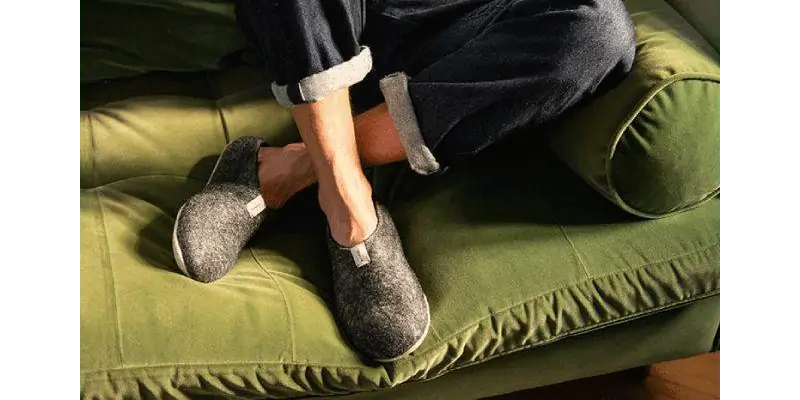 Baabuk is a Certified B Corporation that makes felted footwear modeled after original russian Valenkis that have been worn for generations. Soft and warm, their slippers are made with natural wool from New Zealand and 100% natural crepe rubber. They feature natural latex soles and glue sustainably harvested from rubber trees. Since the slippers are handmade by skilled artisans, each pair will have a unique look and feel.
---
Freewaters calls its vegan sustainable men's slippers "house shoes". They are made with faux-wool, recycled materials and have an outdoor-quality rubber outsole for versatility. Their eco-friendly house shoes feature a knit upper designed to keep your feet warm and comfortable without overheating.
They even offer a spring weight version for warmer weather. The house shoes have Supreme Foam footbed arch support and are machine washable. Freewaters contributes 1% of its sales to fund clean water projects around the world through local partners.
---
Gumbies Outback slippers are made with a recycled rubber outsole to make them wearable outside. To keep them comfy inside, the upper is a soft brushed felt made with recycled PET made from post-consumer recycled bottles. And the insoles are a soft foam made from naturally derived castor oil.
The Brumby Boot is made from the same materials as the Outback, but in a style inspired by iconic Australian work boots. Gumbies makes all its flip-flops and slippers largely from recycled materials and has committed to planting one mangrove tree or recovering plastic from the ocean with every purchase through partnerships with environmental organizations.
---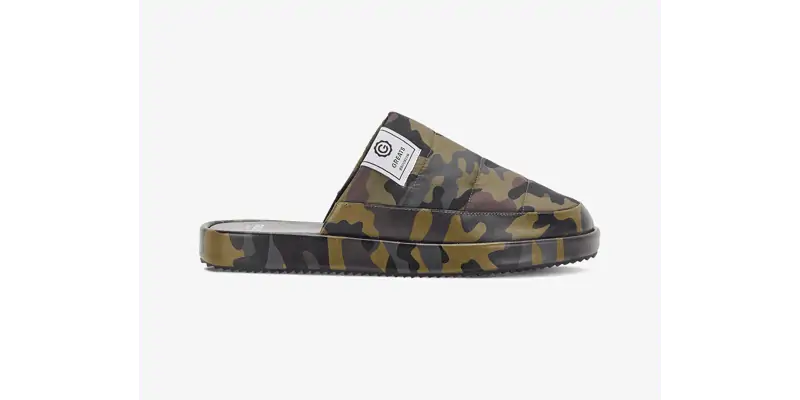 Greats has a range of slippers that feature different eco friendly practices. Its Foster slippers feature a nylon upper made from recycled fishing nets and carpet, and are lined with mesh made from plastic bottles. The Foster Patchworks boast an upper made from up-cycled factory scraps. The conscious footwear brand also uses 100% recycled cardboard packaging and no virgin plastics.
---
Toku slippers are hand made in a local factory in the south of Estonia where they guarantee transparency and great working conditions. Founded in 2017, this young brand practices slow fashion by using natural, high-quality materials to make timeless styles that will last for years. All Toku products are created using 100% green energy.
---
Olukai has been a Certified B Corporation since 2014. This means the company is committed to the highest level of sustainable business and are legally required to consider the impact of their decisions on their workers, customers, suppliers, community, and the environment.
Their Mahana Kilohana slippers are made using recycled materials and the Moloā Kilohana use upcycled Italian wool. Olukai states that re-using premium wool garments to create these slippers saved 110,000 liters of water, 11,118 kilograms of CO2, and 18,768 kilowatts of electricity.
---
Toms REPREVE slippers are part of its earthwise™ collection which is rooted in earth-friendly materials and processes. They feature a REPREVE® recycled polyester blend upper, made with post-consumer plastic bottles.
The original one-for-one company, Toms started by donating a pair of shoes for every shoe sold. As a result, the company brought massive awareness to impact businesses worldwide. Toms has now evolved its model to donate at least one-third of all annual profits to partner organizations making an impact, primarily focusing on physical safety, mental health and equality.
---
Images via brands.