---
Spring is here, and if you're anything like me, the warmer weather has you itching to get moving. Whether you're headed outside, to the gym, or to play basketball with your friends, you'll need something you can easily move in. 
It's always important to wear what you have, especially since Americans threw away 17 million tons of textiles in 2018 alone, the majority of which was clothing. However, men's athletic wear tends to get the hardest use and needs to be replaced more often. Thankfully there's a solid variety of sustainable men's activewear on the market to fill that need. 
When it's time to buy something new, choosing more ethical and sustainable brands can make all the difference for the planet. Here's which brands you should be watching – and why.
What Is Sustainable Men's Activewear?
With so many different labels – sustainable, ethical, fair trade, regenerative – it can be hard to know what's
So, what makes sustainable men's activewear so eco-friendly? First, the materials are more thoughtful. They often use organic cotton, which uses less water than conventional cotton and doesn't require any harmful fertilizers or pesticides. Athletic wear also requires a good amount of performance fabric, so many pieces are made with recycled polyester, nylon, and wool. Conventional performance materials often utilize treatments that can include harmful chemicals, so sustainable brands use bluesign® approved treatments that are better for the planet and you.
Companies that make sustainable men's activewear pants and tees also tend to consider their human and environmental impacts beyond the product itself. They often offer climate-neutral shipping, plastic-free packaging, and even create products in more eco-friendly warehouses. They also treat employees well, providing fair pay, treatment, and working conditions. There are numerous certifications we can look for to confirm these standards, from being a Certified B-Corp to Fair Trade Certified.
9 Sustainable Men's Activewear Brands to Watch
---
Iron Roots make plastic-free, natural athletic apparel. This sustainability-focused company from the Netherlands uses hemp, eucalyptus, beechwood and organic cotton to make more environmentally friendly athletic wear than other brands that use materials that incorporate plastic. 
Iron Roots backs up its green claims by using materials with legitimate certifications like Global Organic Textile Standard and Forrest Stewardship Council. They also make their products in local and SMETA-certified factories to ensure ethical production. Iron Roots is also rated "Great" by Good On You, which is as good as it gets. 
Not only is Iron Roots an eco-friendly and ethical active-wear brand, but their products are pretty great. I've personally tested out the Eucalyptus Performance Shorts, Eucalyptus Performance T-Shirt and the Hemp Athleisure Jogger. They feel great, perform well, and I'd recommend them to anybody. The t-shirt is a flattering athletic cut, but not so slim and tight that you need 6% body fat to look good in it. And the shorts and joggers designs are a nice cross between performance and casual. 
By using TENCEL™ Lyocell, TENCEL™ Modal and hemp, all the pieces I tested are anti-static, anti-bacterial and breathable. I love that the shorts have a tag that says, "If I don't' smell, there's no need to wash me" to reduce how frequently they are washed, which saves water and extends the life of the product.
---
Allbirds is known for its innovative eco-friendly sneakers, but it also has a great line of sustainable men's athletic wear. The clothing is ideal for training, running, or walking, as the blended fabric is lightweight and breathable, with just a bit of stretch. The men's activewear t-shirts are also thermo-regulating, wicking away sweat and keeping you from overheating.
The brand uses fabrics like ethical and regenerative wool, recycled polyester, Tencel, and Lyocell. Thanks to these materials, as well as funding high-impact carbon projects, Allbirds' activewear is carbon neutral. In fact, all of Allbirds' products are climate-neutral and the brand has plans to reduce its emissions to near zero by 2030.
---
Tentree's InMotion collection offers a variety of sustainable men's activewear, from lightweight dri-release tees to agility shorts. It utilizes award-winning technical fabrics and recycled materials, like Repreve polyester, which is made of recycled plastic, and Tencel lyocell, which is made from sustainably sourced natural raw material wood. Tentree also offers joggers, pants, and polos that you can wear from the gym to the hiking trails. Plus, Tentree is a Certified B-Corp and plants 10 trees for every single item purchased.
---
Based in New Zealand, Kathmandu is focused on outdoor clothing that's perfect for hiking, climbing, camping, and sweating it out. It's got an impressive range of products, from hiking trousers and rain jackets to pullover shirts and athletic shorts. Each item has technical features, like high abrasion resistance and durable water repellency. 
Materials include recycled nylon, Responsible Down Standard (RDS) certified down, and bluesign® approved fabrics utilizing sustainable chemistry. Kathmandu is a Certified B-Corp, has three 5-star rated Green Star buildings, and diverts its own polyester waste into products via Repreve.
---
Despite the name, Girlfriend Collective has a solid range of men's sustainable activewear. Its designs are minimal and straightforward, with some excellent color choices. Options range from shorts, track pants, joggers, fleece, short and long sleeve tees, windbreakers, leggings, packable puffers, and more. 
It uses sustainable materials, like recycled polyester, recycled cotton, and organic cotton. It also offers a recycling program for its polyester clothing, so when you're done with a piece, you can send it right back to Girlfriend. All of the brand's products are made with Social Accountability Standard International SA 8000 certified fair labor.
---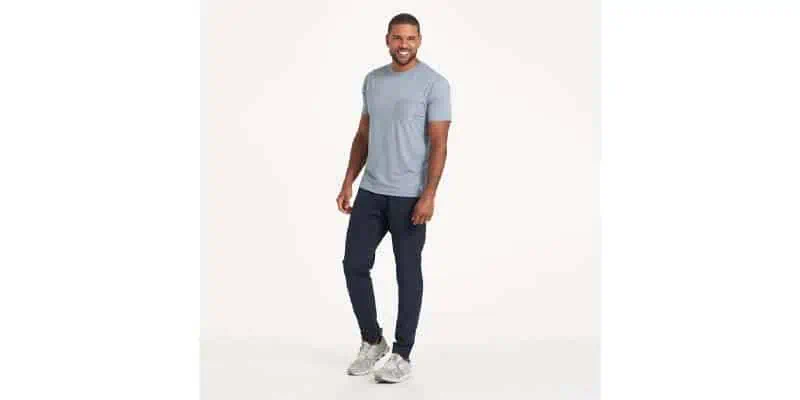 From Encinitas, California, Vuori's men's athletic wear is effortlessly cool. Each piece is made so you can mix and match, without worrying about what goes with what. The clothing is also designed to carry you through workouts and into your daily life, so it's a mix of performance materials (like anti-odor and moisture-wicking) and everyday cuts. 
The best thing about Vuori's apparel is that it feels amazing. I own the Banks Short, Ponto Performance Pant, and Strato Tech Tee. They all feel incredible and I want to wear them all the time. The Strato Tech Tee is my go-to travel tee. It's comfy, looks good, and doesn't get stinky. If I'm taking a flight somewhere, I wear the Strato Tech every time.
Also, many of Vuori's products are made from recycled polyester. The brand partners with The Renewal System, which takes apparel and other textiles that have been thrown away and creates upcycled materials. Vuori also ensures fair labor practices by partnering only with vendors that abide by its Vendor Code of Conduct, which includes protections for environmental responsibility, discrimination, wages, and benefits.
---
Organic Basics is a Denmark-based company that specifically focuses on creating amazing quality pieces using organic, environmentally conscious materials. While many of its basic tees use organic cotton, its men's athletic wear, like its running tights, utilize recycled nylon. It also offers performance fabrics, like Polygiene, a bluesign® approved treatment that utilizes recycled silver salt to stop the growth of odor-causing bacteria, keeping you smelling fresh. The brand partners only with factories that can meet their ethical and environmental standards.
---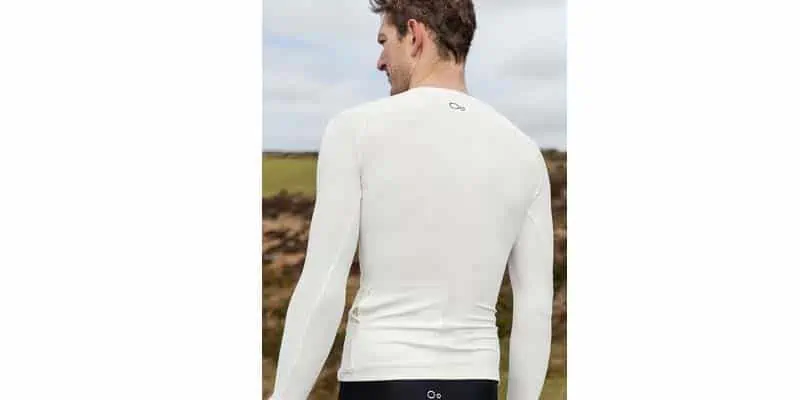 Presca specializes in activewear alone, creating high-performance clothing for cycling and running. The brand touts superior fit and function with features like soft seams and breathable, fast-drying fabrics. Pieces include sustainable men's activewear t-shirts, base layers, vests, jackets, gilets, and bib shorts. Based in the UK, everything from Presca is made from 100% recycled post-consumer waste. It's also recyclable, so even after you're done with it, it can be reused. All of Presca's clothing is produced in European facilities that meet the brand's rigorous high standards for sustainability.
---
CasaGin started out as a sustainable underwear company, but quickly expanded into men's activewear pants, running leggings, shorts, and tees. Its clothing is made of materials like biodegradable nylon and Econyl (recycled polyamide). Each piece includes technical features like compression, fast drying, UV protection, pilling resistance, and more. CasaGin's sustainable men's activewear is also breathable and ultralight, making it perfect for every workout.
---
Images via brands.