---
Whether you are on a quest to find the best sustainable men's suits for special occasions or desperately looking for comfortable, classic, and ethical suits for the office, it's always important to have a solid lineup ready at any given moment. Long gone are the days when sustainable men's fashion was downright plain and boring – not to mention extremely expensive. In 2023, you can opt for sustainable men's dress shirts, refreshingly modern blazers and trousers, vegan leather belts, and many more affordable, eco-friendly sartorial options for work and leisure. 
The 8 men's sustainable clothing brands below offer curated collections of versatile pieces that can be worn separately or together, giving you an easy way to create polished and classic head-to-toe looks. Some offer made-to-order ethical suits with the help of AI tech while other sustainable men's suits actually help divert plastic waste from landfills. Most importantly, all eco suits incorporate immense comfort through breathable, stretchy, and environmentally-friendly fabrics.
What Makes Sustainable Men's Men's Suits Different?
Ethical suits for men and sustainable men's clothing in general, are made responsibly with eco-consious materials that are gentler on the planet and the people who create them. Most options are crafted with plant-based fabrics like organic cotton which requires no chemicals and way less energy and water to grow. Other sustainable men's suits are made from post-industrial and post-consumer waste such as PET bottles. The result? Long-lasting, high-quality garments that promise to pass the test of time.
Additionally, unlike regular clothing, ethical fashion puts much more emphasis on the well-being of its workers. Sustainable fashion brands work exclusively with factories that not only pay living wages but also follow strict codes of conduct to ensure the safety of their skilled artisans. 
Take a look at our top favorite eco suit options from some of the best men's sustainable clothing brands, ahead.
Best Classic And Modern Sustainable Men's Suits
---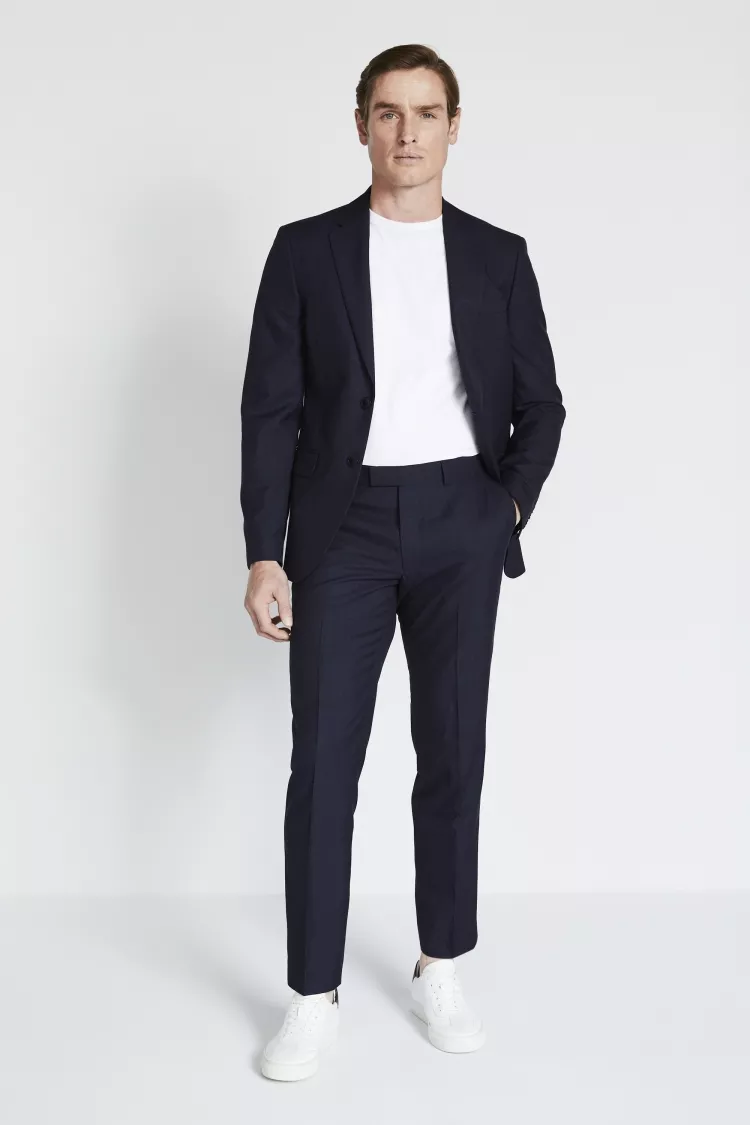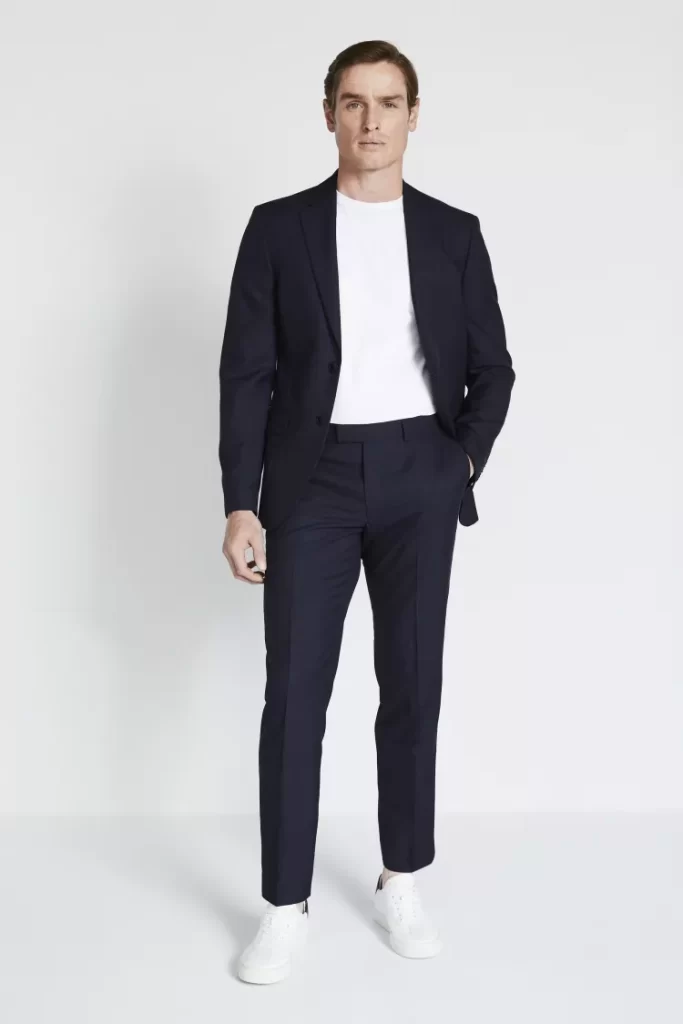 Seems like the entire green fashion sphere has been obsessing over the Moss Bros eco suit for quite a while. The brand's conscious collection of easy-wear items is made of stretch cloth and fibers that have been derived from discarded PET bottles. In fact, to make each suit's fabric, they recycle 45 plastic bottles which is pretty amazing. Even the buttons are made from biodegradable Corozo nuts. 
Currently, there are 3 different frame-defining, ethical suits available. You can also find smart-casual chino shorts and crew neck t-shirts all made from recycled fibers made from salvaged plastic bottles. Last but not least, Moss Bros has partnered with ReGain, the textiles recycling getup that helps recycle clothes (including the brand's best sustainable men's suits) to further practice the idea of circular fashion.
---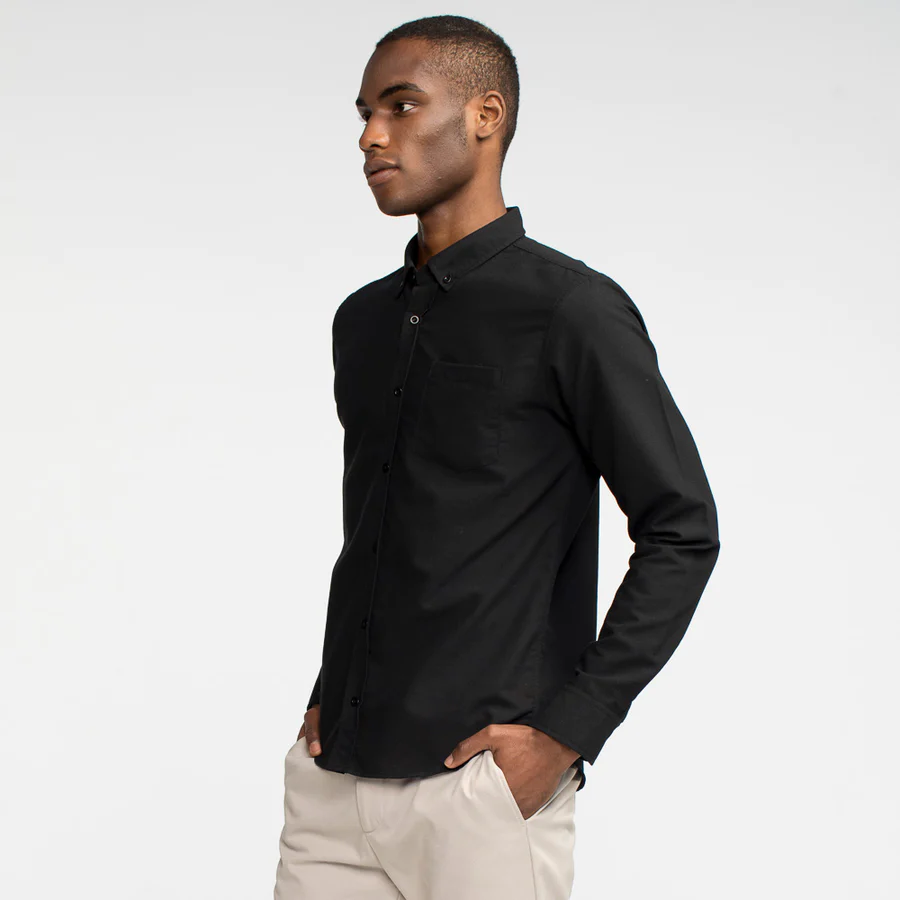 Tact & Stone is touted as one of the best e-destinations for modern, stylish, versatile, and sustainable men's suits thanks to its fantastic choice of eco fabrics. Its cult-favorite blazers, for example, feature Orbital Hybrid Yarn™, an innovative moisture-wicking, fast-drying fabric with zero pilling, and abrasion resistance. 
As for its wide range of tailored oxford shirts, the brand opted for the lowest-impact woven material on the market which is milled at a Portuguese factory that is run on over 50% solar energy. And in case you want to complete the ethical suit set, you can have a look at their sustainable performance chinos that carry the same environmental and sartorial benefits as their blazers. So here's another example of how organic cotton and recycled polyester can not only save natural resources but also look fantastic!
---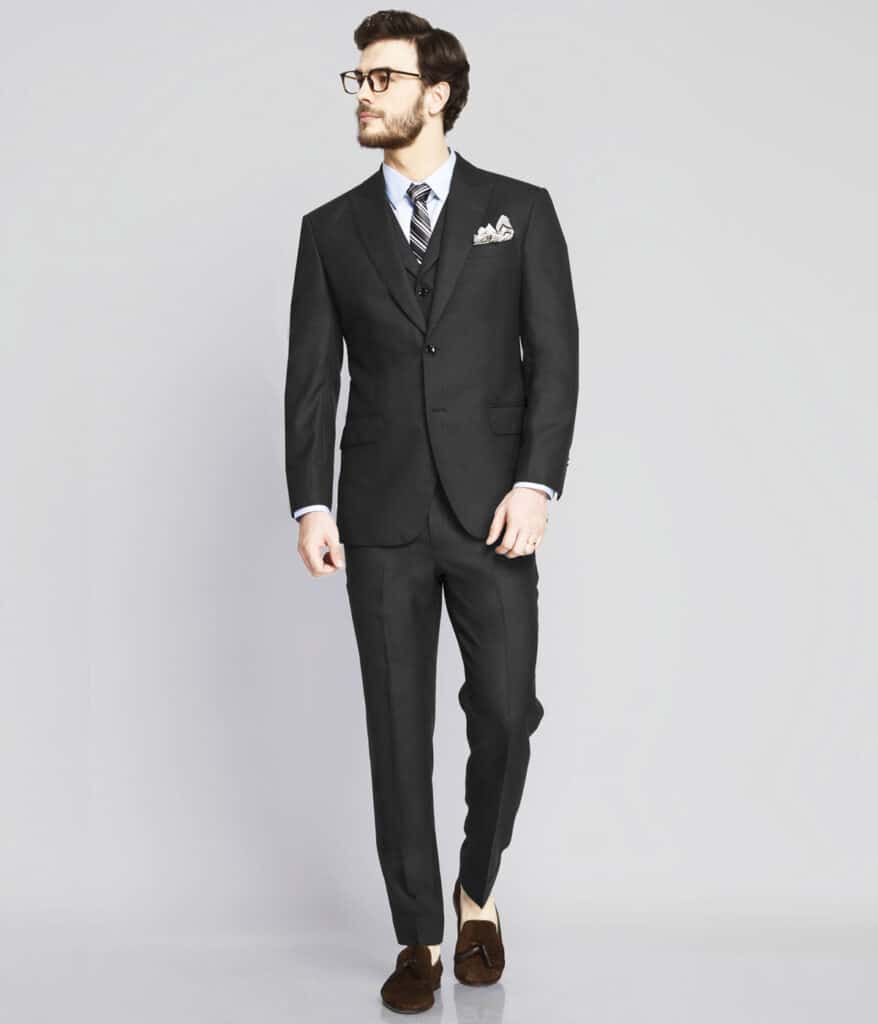 For Hangrr, comfort and durability are non-negotiable, and thus, simply crafting the best sustainable men's suits wasn't enough. The brand offers custom suits tailored to perfection with the help of machine learning + artificial intelligence technology, "Lenna understands men better, unlike her friends Siri & google assistant". She packs the power of a thousand master tailors and a thousand fashion stylists combined. So all you have to do is pick your ethical suits (or separates), customize and then add them to your virtual cart to meet your new personal stylist. 
The options are endless. Their best-selling, business suits boast technical properties and high-stretch comfort with luxuriously soft Italian super 110s merino wool. Then, they have cotton/vegan suits, linen suits, flannel wool suits, and summer suits! Their unstructured, feather light sustainable men's suits called "offbeat", in particular, are ideal for traveling. Lastly, Hanger's skilled artisans are paid 2x more than the standard local wage which is always amazing to hear.
---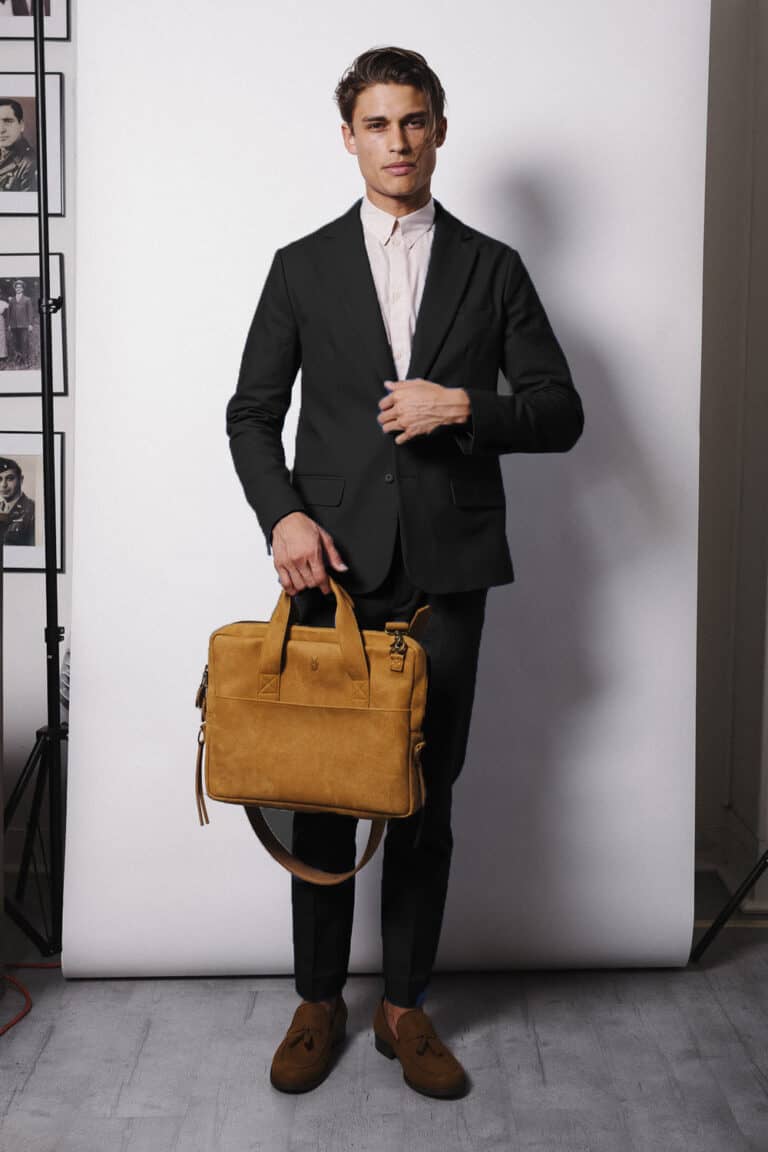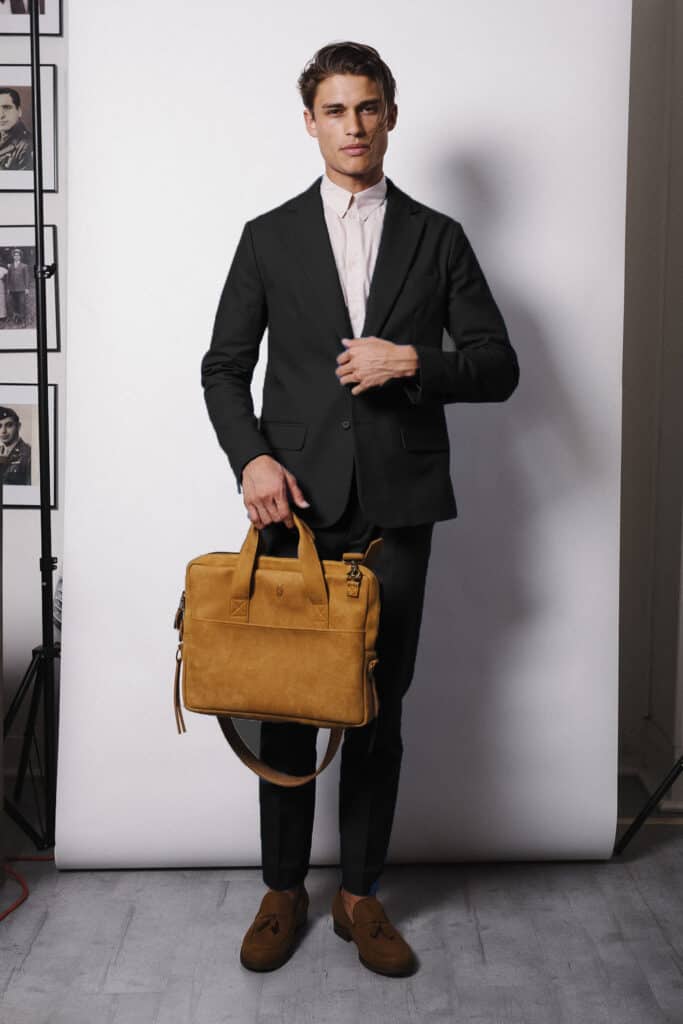 Brave Gentleman doesn't believe that animals should be a part of our formal dressing process and thus, their eco-consious materials range from organic cotton, Tagua nuts, and bamboo to vegan leather. Brave Gentleman's best sustainable men's suits are made-to-order in the USA and come complete with two pieces. You can also individually select jackets, shirts, trousers and even footwear to match your semi-formal and formal attire. As they point out, the Italian-milled, Oeko-Tex® Standard 100-certified hi-tech PU leather is superior to animal leather, so why not give their comfortable dressy shoes a try too?
---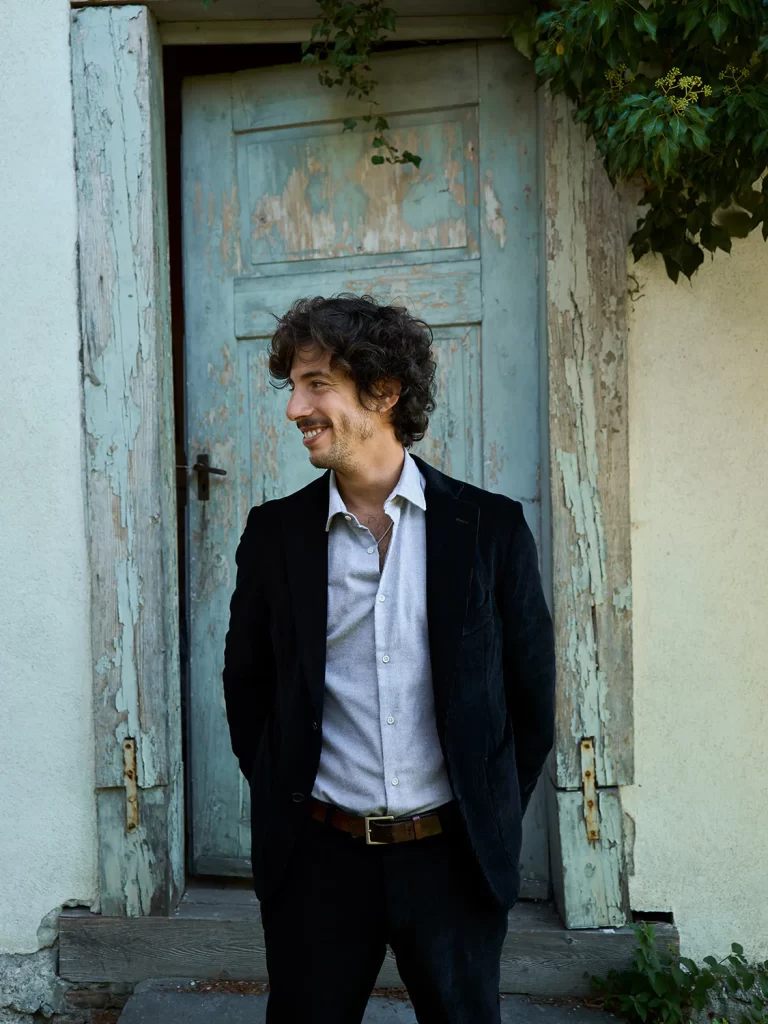 Carpasus aims to provide us with high-quality, timeless menswear, made in Europe (n Portugal and Bosnia). The Swiss shirt brand offers casual shirts, semi-casual shirts, and oxford shirts skillfully made from organically grown materials such as organic cotton and linen. While they don't currently have sustainable men's suits, they are ready to equip you with one of the most important elements: a perfectly tailored, crisp and incredibly modern shirt designed and manufactured under ethical and fair working conditions.
---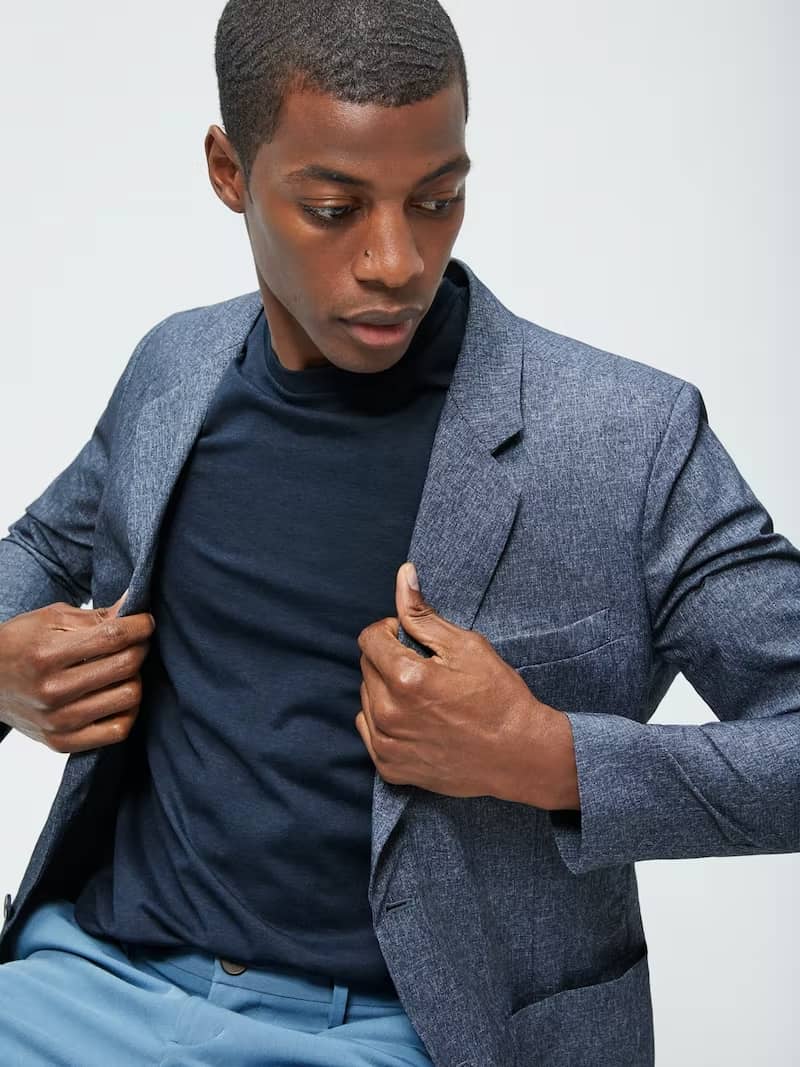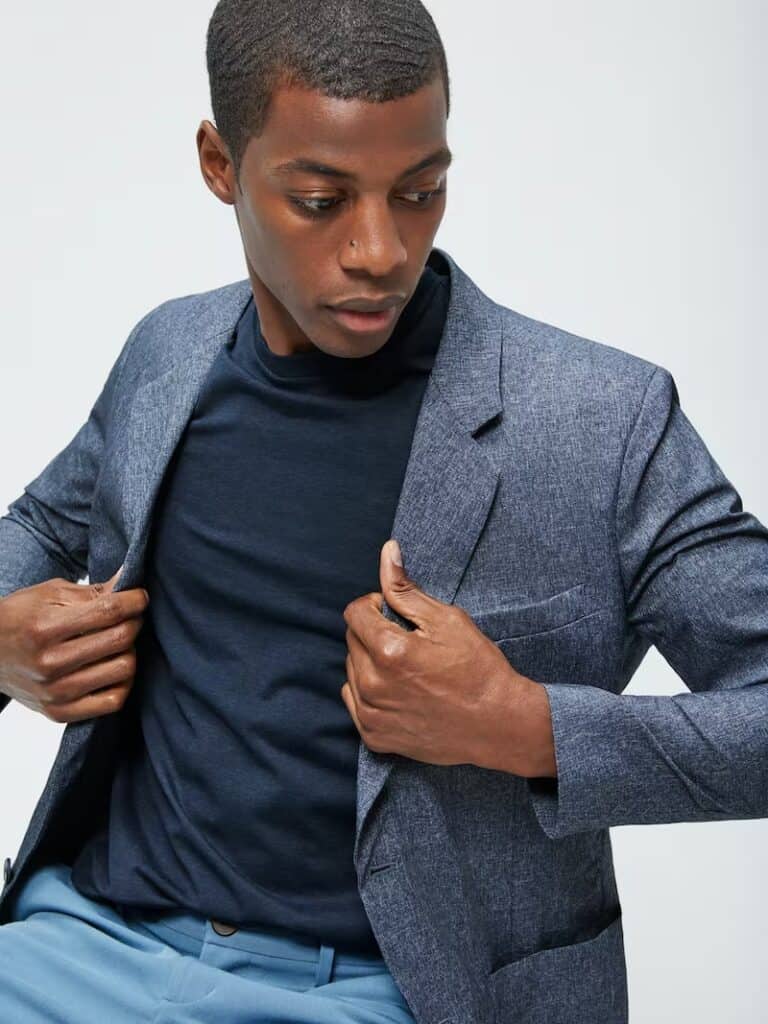 Ministry of Supply is a Boston-based brand known for its wide range of the best sustainable men's suits boasting radical stretch and unmatched comfort. The highlights of their collection are the Velocity Dress Pants and Kinetic Blazer that feature Durable Water Repellant coating to last through countless washes and wears. In fact, Gihan, the owner, and his wife Karoline put the Kinetic Blazer to the test and set the men's and women's world records for fastest-half marathons in a suit – impressive! 
You can also opt for pants, shirts, sweaters, jackets, and coats. Some shirts even feature NASA's temperature-regulating Phase Change Materials and a 19x more breathable than cotton pique knit. That's not all! The brand has introduced the world's first 3D computerized-knit blazer which is basically a seamless piece with virtually zero waste. It's safe to say that they know a thing or two about ethical suits.
---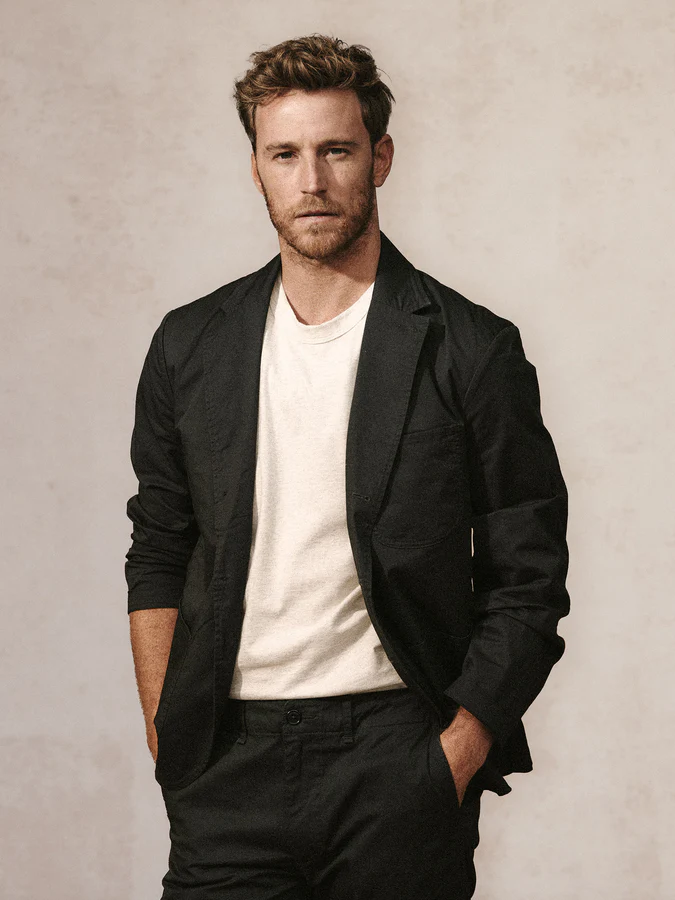 Buck Manson is on a mission to help men rethink their office aesthetic by incorporating modern, classic, and rugged ethical suits into their year-round rotation. Their exceptionally timeless "On Duty Wardrobe Essentials" run the gamut from oxford shirts and tailored cotton twill jackets to matching pants and polos. Everything is designed in LA following the motto to " [be] the best, for the most, for the least," without forgoing their values. Plus, the brand's best sustainable men's suits have been praised by GQ, Forbes, and even The Wall Street Journal, so you know that the quality is top-notch!
---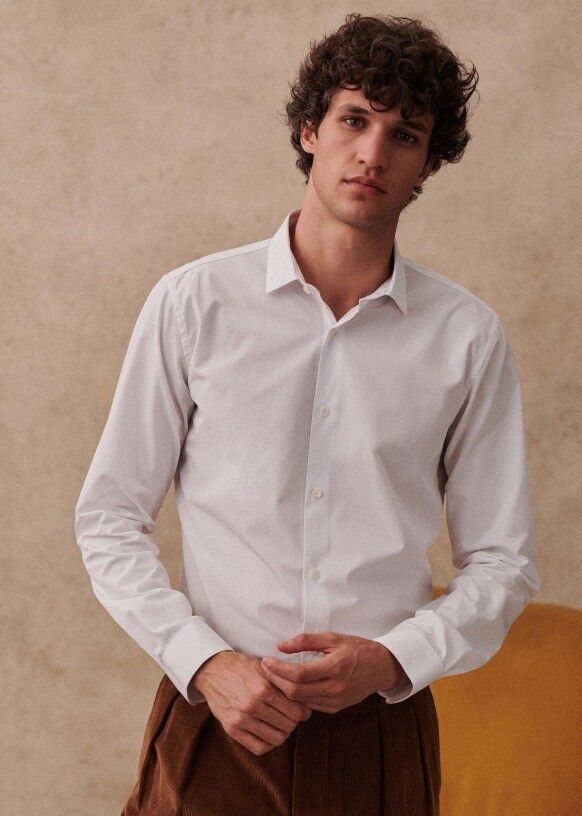 If you are interested in putting together a Parisian-inspired wardrobe with quality, timeless design, and eco-consious fabrics being the focal point of your rotation, Octobre is the brand for you. The "young trousers" collection, made from 100% virgin wool and organic cotton, is the perfect semi-formal office staple. You can also choose from the many perfectly cut shirts with officer and round collars or go straight to their best sustainable men's suits section. There, you will find Octobre's classic and modern ethical suits and many accessories to match your formal attire such as ties, belts, and shoes!
---
Images via brands.