---
Winter is coming, and for most of us in the northern hemisphere, that means it's time to pull your boots out of the closet. Whether you're wearing casual men's boots or a more formal pair, it's important that they're ethical shoes. The shoe industry alone is responsible for 1.4% of greenhouse gas (GHG) emissions worldwide. To put that into perspective, footwear releases almost as much GHG emissions as air travel, which accounts for 2.5% of emissions. By purchasing sustainable men's boots, we can support ethical brands that are working toward making the footwear industry a better place.
Still, finding a pair of boots that fit your unique style, feel comfortable, and are ethically made is a tall order. However, there are more options for ethical boots now than ever before – here are the standouts.
What Are Sustainable Men's Boots?
There are a few things to consider when determining whether a boot is sustainable. First is the quality – will the boots last for years to come? 90% of shoes and boots end up in landfills, where they sit for tens and even hundreds of years, depending on what they're made of. Some shoe and boot soles can last for 1,000 years in the landfill. Cheaply made boots often fall apart after just one season, sometimes less, and you're forced to buy a new pair. When you choose a pair that's built to last for years, you can lessen your contribution to this issue.
The materials that your shoes are made of are important as well. Boots tend to be made of leather, synthetic leather, or canvas. Raising the cows used for leather production leads to habitat loss, deforestation, and greenhouse gas emissions. In the tanning process, chemicals may leak into nearby water sources. Synthetic leather isn't usually much better, as it's often made of PVC, which is essentially plastic and can't biodegrade like leather can. The production of PVC also releases greenhouse gases. 
Ethical shoes and boots take these factors into consideration, and then some. They use smarter materials that have less impact on the environment, as well as leather from more sustainable sources. They are also made to last so that you can wear the same pair of boots for years to come. Sustainable men's boots are typically made by brands that are transparent about where the shoes are made, who makes them, and how they're treated.
The Top 9 Sustainable Men's Boots
---
M. Gemi creates ethical shoes in Italy, made only by artisans using centuries-old techniques and high-quality leather. The brand releases limited-edition designs in small batches, which allows them to avoid any surplus inventory that would otherwise go to a landfill. They support 13 family-owned shops, one of which has been in business for over 95 years. They pay fair trade wages to their employees and provide safe working conditions.
---
soleRebels uses innovative, sustainable materials, like recycled car tires in the soles of their shoes. They also use organic cotton, jute, and sustainable leather from free-range animals. Their sustainable men's boots are handcrafted and never mass-produced. The company was created in Ethiopia and the ethical shoes are still made there, with employees and artisans receiving medical benefits, education funds, and wages that are three times the industry average.
---
Fair creates ethical shoes in Portugal from sustainable materials, including OEKO-TEX certified and PVC-free materials. Its Italian microfiber is made by a CO2-free manufacturer. It prioritizes fair treatment of employees, offering safe working environments and fair trade pay.
---
Nisolo's sustainable men's boots are modern, sleek, and fashionable – but most importantly, they're ethical. Nisolo uses leather that comes from Leather Working Group certified tanneries. These tanneries must meet high standards of environmental responsibility.
The brand is a certified B Corp and collects used shoes to send to Soles4Souls, diverting them from landfills. For over three years, Nisolo has partnered with Ecosphere+ to maintain 0% net carbon emissions by investing in the Peruvian Amazon. The program protects mature trees in the Amazon which are responsible for much of our planet's carbon capture. Employees and artisans receive fair trade wages, healthcare, and safe working conditions.
---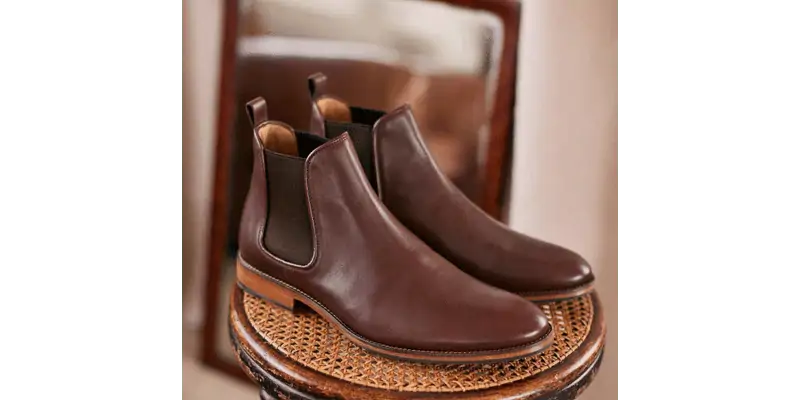 Based in Paris, France, Octobre offers sleek European styles of sustainable men's boots. The brand uses carefully sourced materials for its ethical shoes and boots and delivers them in recycled packaging. The shoes are made in factories that are independently audited against their ethical code and industry standards. 95% of Octobre's products are handcrafted by European ateliers.
---
Native Shoes' ethical men's boots are fair trade and vegan, using unique sustainable materials like Susterra corn-based polyurethane and algae-infused outsoles, both of which can biodegrade. They also utilize recycled materials that keep feet warm and dry. The boots themselves are lightweight due to the innovative materials used. The brand specializes in offering casual boots with modern designs and color options.
---
Matt & Nat have been making fair trade, vegan products for over 25 years. They choose sustainable materials like recycled plastic bottles and recycled windshield glass resin, though you wouldn't know it just by looking at the shoes, which are modern and sleek. They also use cork and rubber, both of which make for comfortable, durable, and ethical shoes.
---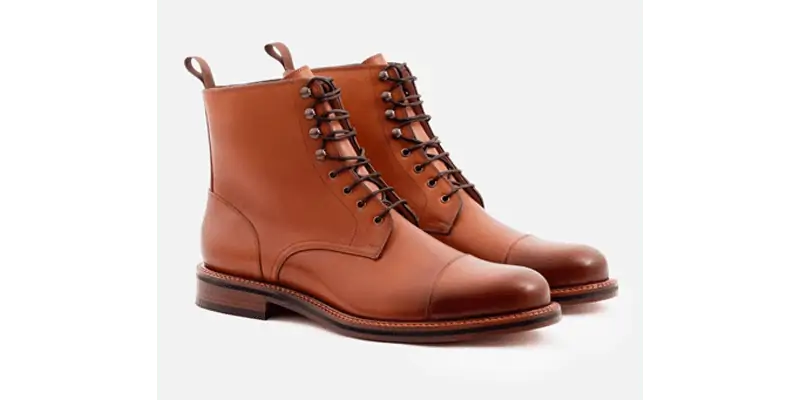 Using traditional techniques, Beckett Simonon creates made-to-order, handmade ethical shoes. This method of retail ensures that there's no unsold inventory and no wasted resources. They source leather from Italian tanneries that are gold-rated by the Leather Working Group, which are committed to responsible chemical, water, and waste management. They also use only natural waxes and water-based dyes and solvents.
They offer both classic and modern styles, so you can choose from casual men's boots and more formal options. Since shoes are made to order and sold exclusively through Beckett Simonon, you save money by skipping the retail markup that storebought premium boots come with.
---
Vivobarefoot's shoes and boots are unique because they are made to be shaped like a foot – not a shoe. They're also wide, thin, and flexible, allowing you to find your natural stability and movement. The casual men's boots include a thermal insole and hex outsole which provide grip and regulate your temperature.
Their ethical shoes are made from natural and recycled materials that reuse post-consumer waste which reduces the waste that ends up in the landfill. That same material lends itself to being water-resistant. Some of their sustainable men's boots are made from "wild hide" leather which comes from free-roaming cattle in Ethiopia.
While their sustainable men's boots are made to last, Vivobarefoot also offers a repair service because they want you to wear the shoes for a lifetime.
---
Images via brands.