---
The word "flannel" conjures images of plaid lumberjack shirts and a broad array of stylish modern takes on classic tartan patterns. Plaid flannels are a popular go-to, but don't overlook the much-underappreciated solid color flannel as an even more versatile workhorse. You still get that warm softness, but a solid color ratchets up how frequently you can happily pull it out of the closet. Ranging in looks that are still very rustic to some that are a bit more dressy, you can pull off a solid flannel on a casual day at the office or at the campsite.
Here are 5 solid color flannel shirts from some great values-driven brands.
---
TOAD & CO FLANNIGAN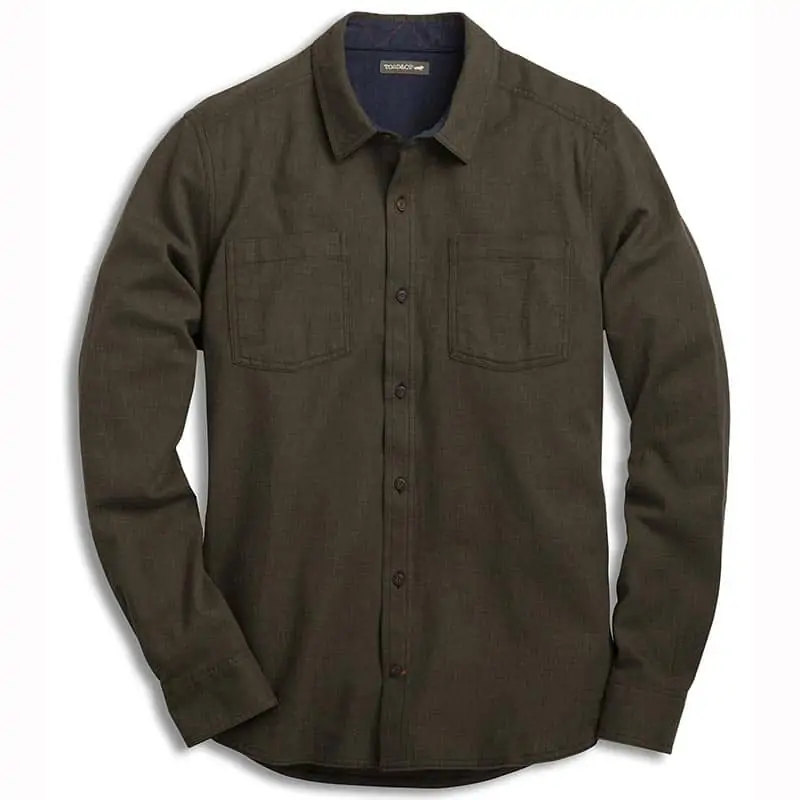 The Flannagan's heathered flannel is made from 100% organic cotton and is OEKO-TEX 100 certified fabric. That means it is tested and certified to not include any harmful chemicals. Toad & Co has a long history of sustainability. One very cool current sustainability effort is that when you order online, you can choose to have your items shipped in reusable packaging.
COTOPAXI PUEBLO SHIRT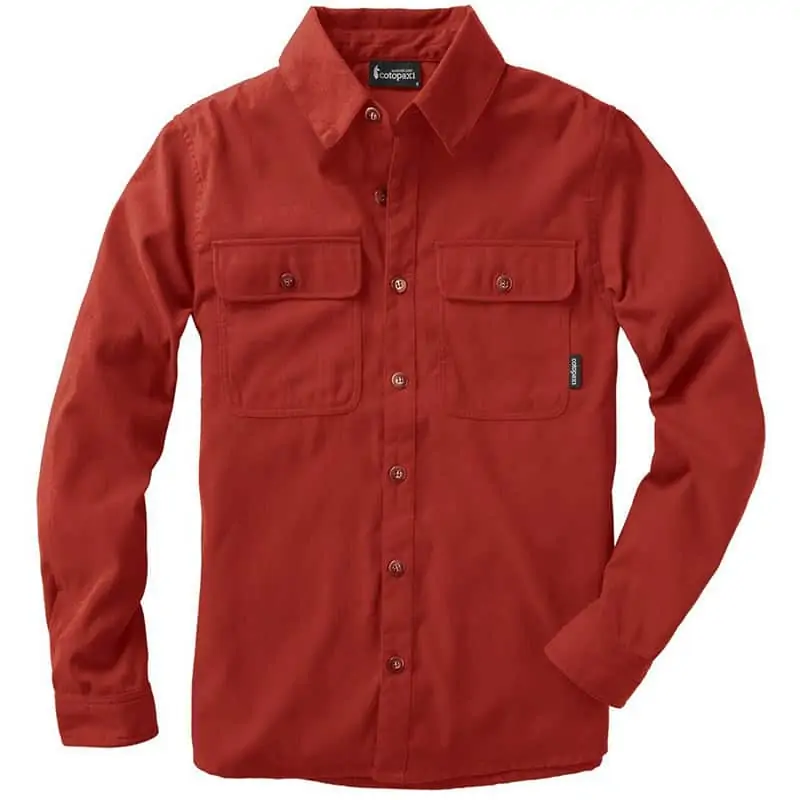 The Pueblo is a breathable and wrinkle resistant synthetic midweight flannel designed to take you from town to the campground. The clean design provides plenty of style for a weekday happy hour while the details, including a braided nylon locker loop on the back of the collar that makes it distinctly rugged.
Cotopaxi is a Certified B Corporation that makes "Gear for Good." The company uses scraps of fabric to make gear, partners closely with supply chains to ensure fair working conditions, donates 2% of profits to alleviate poverty and partners with a number of health and education organizations in developing companies.
PRANA WOODMAN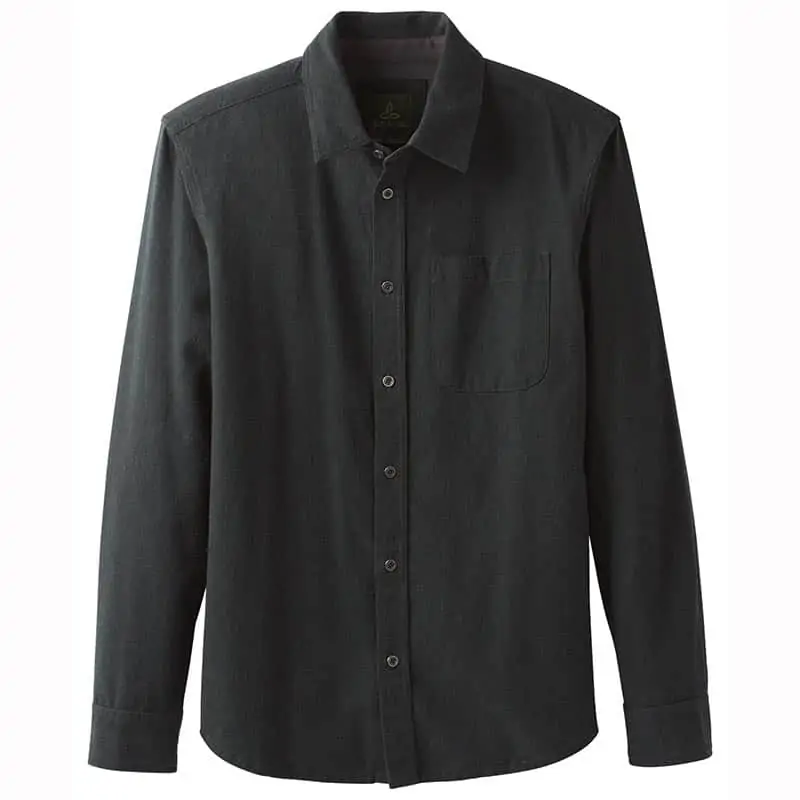 Prana's Woodman midweight flannel's super-clean, single-pocket design makes it especially versatile. It doesn't scream, "I'm headed to the campsite," but the 100% organic cotton will feel pretty warm when you actually get there.
Founded in 1992 in Carlsbad, California, Prana has been focused on sustainability since day one and continues to focus on fair trade and environmental stewardship.
PATAGONIA FJORD FLANNEL
The Fjord Flannel is a hearty, heavyweight flannel that'll keep you cozy and toasty.  The dual oversized chest pockets and military buttons give it a rugged look, and the solid color option makes it a real multipurpose shirt that appeals to all ages.
Patagonia is well known for its history of efforts in sustainability, fair trade, and even activism.  Through its Footprint Chronicles, Patagonia is amping up transparency by showing shoppers which suppliers contribute to specific products.  Check out the suppliers for the Fjord Flannel.
KNOWLEDGE COTTEN APPAREL MELANGE EFFECT FLANNEL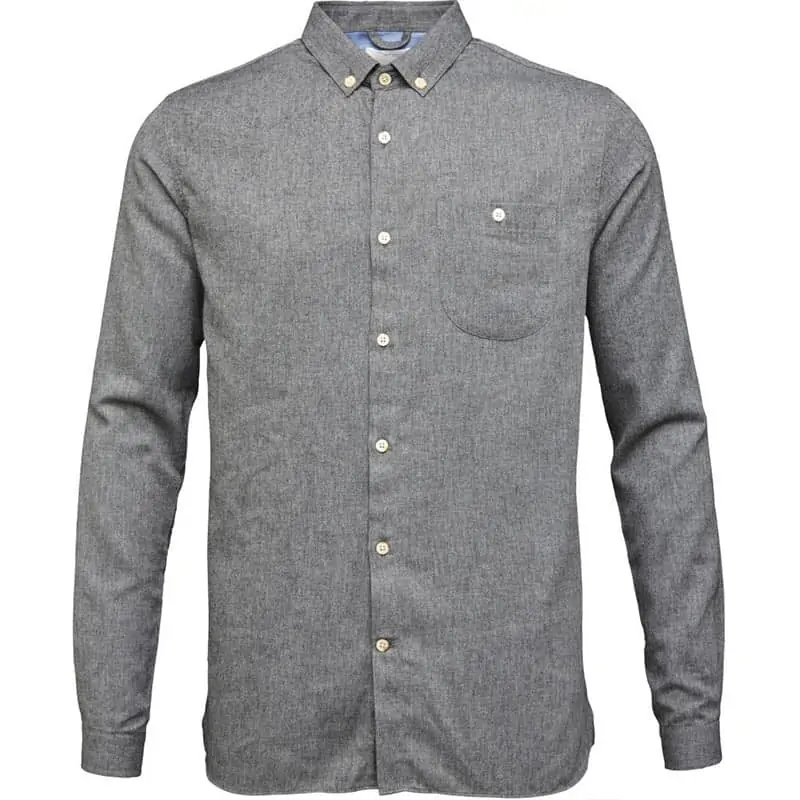 Its button-down collar and slim fit push this flannel towards the more dressy end of the flannel spectrum. That makes for a soft and warm casual shirt that's perfect for the office or holidays with the family (you want to look good for the in-laws, right?). The Melange Effect Flannel is Global Organic Textile Standard (GOTS) certified, the world's leading standard for organic textiles.
Knowledge Cotton Apparel is a company based in Nystedvej, Denmark who's mission is to change the status quo. The company evolved from a family-owned textile company back in 1969 and today is men's clothing line that uses eco-friendly textiles and whose goal is to be 100% carbon neutral by 2025.
Images via brands listed. Pricing accurate at time of publication.