---
Spring and summer are the time to kick off those winter boots and get your feet some sun! While sandals and flip flops can be found dirt cheap at any convenience store near the beach, that cost comes at a price.
Those dime-a-dozen flip flops are likely not being made using eco-friendly materials or being produced in factories and workshops that support fair labor.  But there are some great alternatives out there that are applying more sustainable practices. So what are the best sustainable men's sandals and flip flops? 
The best sustainable men's sandals and flip flops are made using eco-friendly materials like cork, recycled polyester, vegan leather, recycled rubber and innovative materials made from algae blooms or pineapple leaf fibers.  They are also made and sold by companies that have achieved or are pursuing net zero carbon emissions and using recycled packaging or avoiding single use plastics. And finally, the best sustainable men's sandals and slippers are made in certified facilities that guarantee their employees a living wage and good working conditions.
Let's check out some of the best sustainable men's sandals and flip flops and the innovative methods they are using to drive sustainability.
---
Almost everyone recognizes the cork sole on Birkenstock sandals, but not everyone knows how incredibly sustainable cork is as a resource and material. Cork is obtained from the bark layer of the cork oak tree. It can be harvested numerous times without harming the tree. Beyond Cork, Birkenstock actually uses a number of other sustainable materials including natural latex, jute, leather, wool felt, copper and brass. One huge reason I love Birkenstocks is the arch support and foot ergonomics. Unlike many other flat sandals, I can actually walk around in Birks all day long and my feet still feel great.
---
Braves Soles was created by Christal Earle, the founder of an international youth humanitarian organization. In 2017 she was inspired to use tires for soles to make beautiful hand-made shoes. Brave Soles employs local artisans in the Dominican Republic and ensures respectful and ethical employment from wages, to vacation time to health care and working conditions. Brave Soles' leather sandals look classy on top and feature functional, upcycled tire tread on bottom.
---
You can tell by the name, El Naturalista is committed to sustainability. The company makes sustainable shoes using soles made from cork, EVA, natural rubber and re-uses surplus material. Even their office is highly sustainable. In addition to a broad range of energy efficiency initiatives, El Naturalista headquarters features shredded rubber instead of grass, half of their chairs are made from cardboard and their tables are made from recycled wood.
---
Gumby's is on the quest for the perfect flip-flop.  The company makes sustainable men's sandals using eco-friendly materials like recycled rubber, recycled polyester and recycled cotton.  Their Duckbill and Islander flip-flops have a fun, and distinct look that makes you want to hit the beach. I love Gumbies because they are fun and funky.
---
Indosole is a Certified B Corporation, which demonstrates their commitment to a range of ethical business practices, including eco-consciousness and sustainability. From the beginning, Indosole has been making flip-flops from recycled tires. This literally keeps tires out of landfills. The company is transparent with their operations and will often share photos and stories from their production teams.
---
NAE stands for No Animal Exploitation. Their mission is to propose an animal-friendly and ecological alternative against human exploitation. Their shoes and accessories are manufactured in certified and ethical factories in Portugal. And every NAE product is environmentally friendly, made with ecological, sustainable, and recycled materials. Their stylish sustainable men's sandals feature materials like 100% recycled PET, recycled airbags, and material made from pineapple leaf fibers.
---
Native shoes is working towards having all of its shoes recycled. The shoes can be reground into versatile material that can be used in a broad range of applications including playground flooring, insulation and more. Their website includes detailed information where you can send in your old Native Shoes to be recycled.
---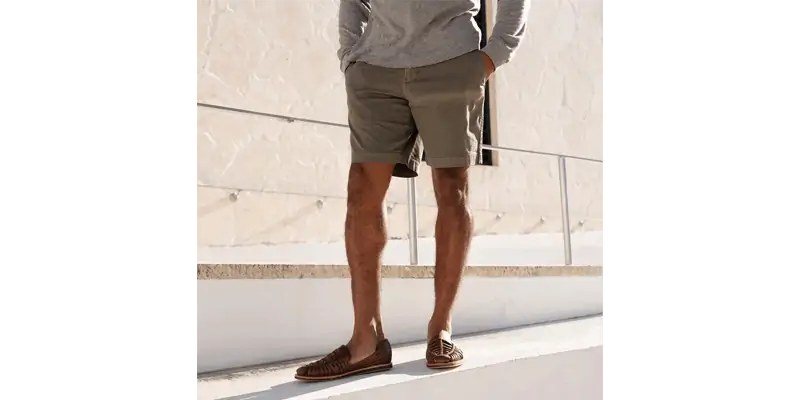 Nisolo is a Certified B Corporation that has been committed to sustainability and fair wages since 2011. The company guarantees that 100% of the people creating products in their factories earn a living wage. It also offsets 100% of its carbon emissions while also leveraging solar power. Nisolo makes classic men's Huarache sandals from leather certified by the Leather Working Group.
---
Since 1984, Okabashi Brands has been a family owned and operated shoe company in the small town of Buford, Georgia.They design shoes that promote health and comfort and feature active arch support, massage beads, and a two year guarantee. The company's proprietary material is made in the USA and is 100% recyclable.
---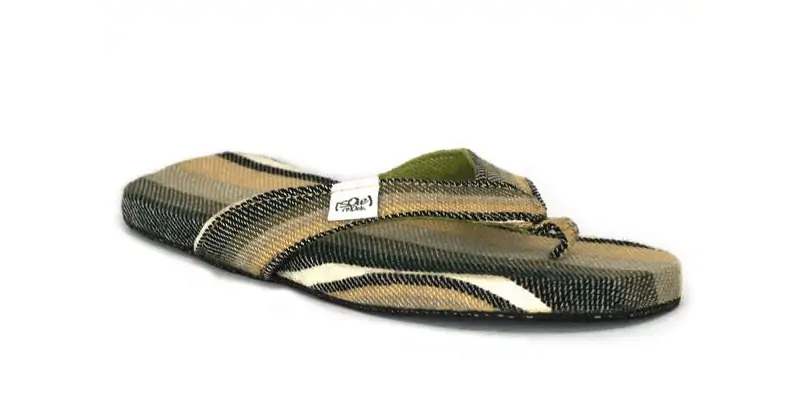 SoleRebels creates made-to-order footwear that is handcrafted in Ethiopia. Every pair of soleRebels is made from a combination of recycled, organic and bio-based materials using zero-carbon methods.   The easy RIDIN Comeback Sandals are part of the b*knd series of vegan footwear, which are made without any animal products.
---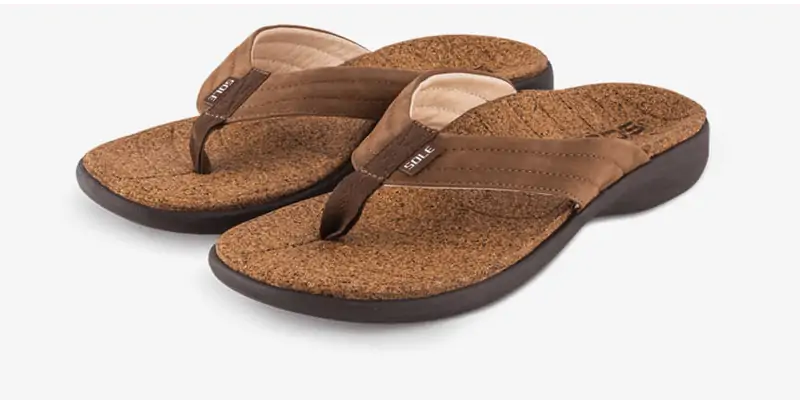 SOLE makes insoles, shoes and sandals from eco-friendly materials like cork and algae foam. The company partners with ReCork to turn wine bottle corks into sustainable, supportive and comfortable soles. They also use Bloom Algae Foam, which is made of algae harvested from harmful blooms to restore balance to natural ecosystems.
---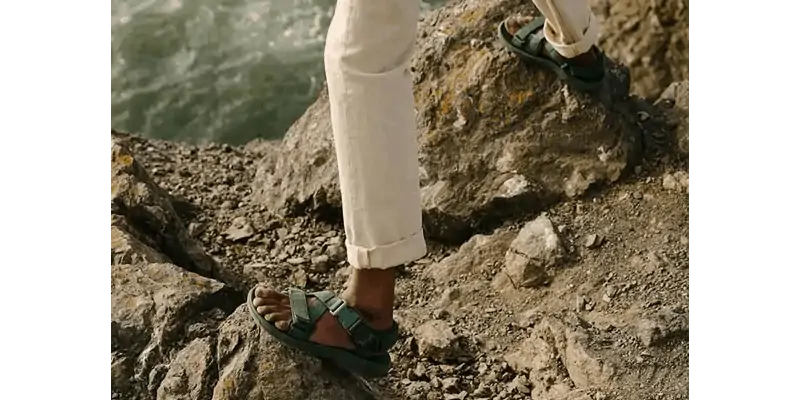 Teva has been making footwear since 1984 and basically created the genre of hiking and adventure sandals. The company has been on a path to sustainability since early on and in 2020 transitioned 100% of their straps to traceable verifiable recycled plastic using REPREVE® yarn, diverting 40 million plastic bottles from landfills. All of the leather used in Teva's sandals is sourced from tanneries certified by the Leather Working Group, whose mission is to promote sustainable and appropriate environmental business practices within the leather industry.
I particularly recommend Teva's if you're going to be active. Teva's are designed for outdoor activities like hiking and watersports. They're both very functional and extremely durable.
---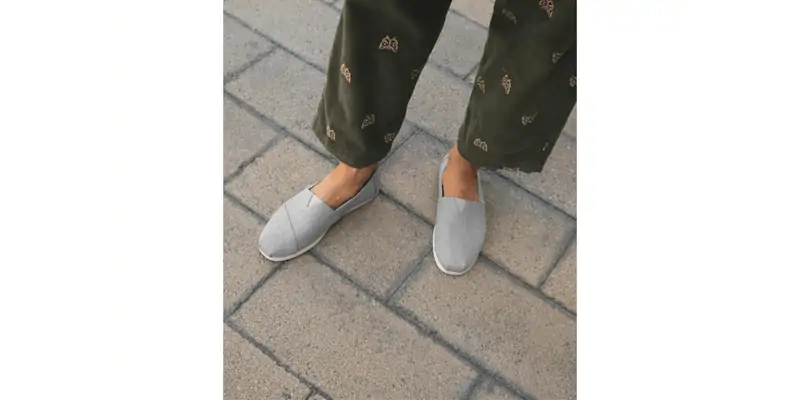 Are Alpargatas sandals or shoes? Well, they're casual and you can wear them without socks when it's warm out, so close enough! Tom's has released a range of Alpargatas in its Earthwise collection, which is designed to have less environmental impact. They feature a REPREVE® recycled polyester upper blend, made with post-consumer plastic bottles and dyed using a process that reduces water and energy usage, lining made with TENCEL™Lyocell made from wood pulp derived from sustainably managed forests, and a carbon negative Green EVA outsole derived from sugarcane. Tom's is also a Certified B Corporation that is the original One-For-One company that continues to broaden its charitable impact.
---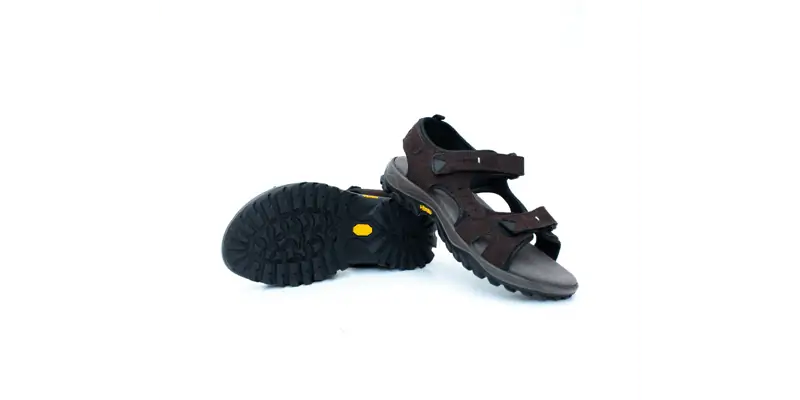 Since 2012 Will's Vegan has been been creating ethical vegan products made in Italy & Portugal under European Union employment which follows discrimination, health and safety law.  The company's online vegan store operates a plastic free carbon neutral supply chain using sustainable materials. Their WV Sport Active Sandals are made with vegan suede and are designed to keep you comfy and active all summer.
Images via brands.