---
A warm sweater is an indispensable staple of any man's wardrobe.  And for many of us, when we're considering adding a new item to our wardrobe, we want to know that the brand making it is working hard to minimize its environmental impact and support the people and communities that it works with. Fortunately, there are a growing number of brands making sustainable men's sweaters that are committed to doing just that.
What are Sustainable Sweaters?
The most sustainable sweaters available today are made from eco-friendly materials like GOTS certified cotton, organic hemp, and a broad range of wools. Recycled versions of those same materials, as well as recycled polyester and acrylic are also often used to minimize production of new material. 
Sustainable brands work to minimize their environmental impact beyond just the materials used. Many use plastic-free or recycled packaging, offer climate-neutral shipping and encourage the donation and recycling of used garments.
And finally, brands committed to sustainability are also ensuring their employees and suppliers are being paid and treated fairly. Some brands even align their mission to include improving the lives and communities of the people who work for them.
Here are 22 of the Best Sustainable Men's Sweater Brands
---
Outerknown was founded by surfers with a mission to protect natural resources, empower the people crafting their clothes, and inspire change within the industry and beyond. The surf vibe is really strong with their 70's era design of the great-looking "nostalgia sweater". This throwback gem is made of 65% organic cotton and 35% COOLMAX® polyester. Outerknown offers a few other more traditional, solid-color sweaters as well including a recycled cashmere sweater.
Use code OKGEARANDGOOD for 20% off.
---
Finisterre's sweaters are primarily made of 100% merino wool or wool blends. The styles range from fisherman's knit to full zip in a broad range of colors that all look fantastic. As a certified B Corporation, Finisterre is committed to the highest level of sustainable business practices.  The company is a rugged, surf-inspired apparel brand with an environmental focus inspired by the sea. They offer one of the best ranges of versatile, sustainable men's sweaters.
---
For twenty years Indigenous has been delivering on its mission to  elevate artisans in economically marginalized communities to world renowned status in the global textile market. Their business model is made of a cooperative structure that encourages entrepreneurship among independent artisans. You can check out some of the featured artisans on their website and learn more detail about the company's sustainability in their Impact Report.
Indigenous offers around 9 or 10 well-designed sweater styles from crew and v-neck sweaters to cardigans and zip ups. The sweaters are made from certified organic cotton, alpaca and merino wool. The brand uses dyes that are approved by the Oeko-Tex Standard 100.
---
Paka is a B Corporation and Best for the World 2021 award-winner that works with Peruvian weavers to offer a modest range of sweaters, shirts and joggers made from alpaca wool. The brand's mission is "Consumers and Creators made equal" and it offers empowerment programs like teaching weaving and providing robust childcare. Paka has a goal of multiplying each weaver's income by 8x.
Paka's sweaters are made from alpaca wool that is warm, odor-resistant and soft to the touch.  Their sweaters are extremely comfortable and feature unique design accents that highlight the company's Peruvian heritage.  I absolutely love my Paka sweater and the company's customer service was amazingly responsive and supportive when I experienced a shipping issue.
---
Naadam makes sustainable cashmere by partnering directly with local herders in the Mongolian Gobi Desert. The brand is committed to delivering high-quality cashmere apparel at a price that's fair to consumers as well as to the herders. They're committed to sustainable and ethical business practices and publish an annual Social and Environmental Impact Report.
Naadam offers a huge range of men's sweaters including everything from classic crews and cardigans to hoodies and turtlenecks.  They offer 100% Mongolian cashmere sweaters, as well as wool, cotton and cashmere blends. 
---
Patagonia makes traditional eco friendly men's sweaters from recycled wool, cashmere and cotton.  The company has also been making its Better Sweater® styles for years which combines the easy care and performance of fleece with sweater-knit aesthetic. The Better Sweater® is made from 100% recycled polyester, is Fair Trade Certified™ sewn from fabric that is Fabric is certified as bluesign® approved.  Through its Worn Wear program, Patagonia also offers credits for trade-ins of its products, and sells refurbished used Patagonia items at a discount.  Worn Wear is a great place to find discounted Patagonia sweater styles that have been discontinued.
---
Founded in 1992 in Carlsbad, California, Prana has been focused on sustainability since day one and continues to focus on fair trade and environmental stewardship. Their goal is to inspire, educate, and outfit your adventures with sustainable clothing. Prana offers 100% organic cotton sweaters that are bluesign® and Fair Trade Certified™. The classic, solid-tone style of Prana's sweaters are perfect for dressing up or down.
---
Allbirds made a name for itself with crazy comfortable merino wool shoes that the world fell in love with. The brand has since expanded its offering of sustainable products to apparel.  Allbirds continues to utilize primarily merino wool and focuses on comfort and quality. The company offers three amazing-looking sweaters for men: a jumper, a cardigan, and my favorite, the wool hoodie. 
---
Ecoalf is a Certified B Corporation that has been making eco-friendly apparel for over a decade. It uses only recycled or low environmental impact materials in all of its production. The brand has signed the Zero Net 2030 agreement to achieve zero carbon emissions by 2030.
Because Ecoalf is committed to timeless design and not overproducing, it has just a few classic sweaters. Made from materials such as recycled wool, recycled acrylic, recycled cashmere and recycled cotton, these solid color sweaters would be perfect for any sustainable wardrobe.
---
ASKET's motto is "The Pursuit of Less". And its definition of progress is reduced wardrobes via timeless and durable apparel. For every item, ASKET shows the cost of making the garment and traces the origins of its manufacturing. The brand is also working on being able to show the CO2 impact of creating the garment.
The five sweaters offered by ASKET cover any sweater need you might have. Their collection of sweaters includes a recycled cashmere sweater, a cotton sweater, a merino roll neck, a merino crewneck and a merino zip cardigan.
---
Honest Basics offers a classic-looking GOTS-certified organic cotton sweater at a very affordable price. All of Honest Basics' products are vegan approved by Peta and are made using ethical and transparent production in Bangladesh and India. Their packaging is plastic-free or made from recycled plastic and they offer climate neutral shipping. 
---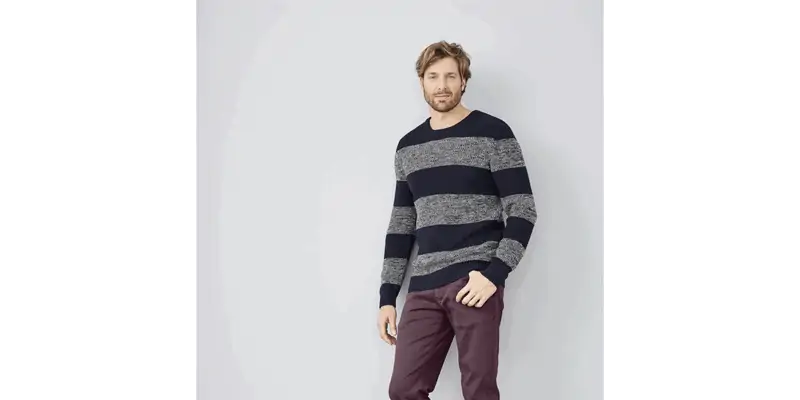 If variety and a broad selection is your thing, then Living Crafts is the sustainable sweater brand for you.  They offer over 40 different colors and designs made from various combinations of organic cotton, wool and alpaca. Living Crafts is a German brand that has produced high-quality natural textiles under environmentally friendly and socio-economically fair conditions for over 30 years.
---
Nudie Jeans makes sustainable jeans as well as an expanding range of apparel including everything from shirts, underwear and yes, sweaters. The company believes in manufacturing transparency and will show you thorough details on the production of every product they offer. Nudie makes its sweaters from a blend of recycled cotton and recycled polyester or a wool and alpaca blend. The brand offers this awesome looking alpaca cardigan as well as some traditional looks and a few pretty creative designs.
---
The Organic Basics wool knit sweater is made from 100% recycled wool that is pre-consumer textile waste that would otherwise go to landfills. The classic design comes in three great looking colors perfect for fall and winter. 

Organic Basics is a Danish company that is dedicated to cleaning up the fashion industry. It sources materials based on environmental footprint and durability. The brand also shares a wealth of information on all of its certified factory partners. Check out their 2020 Impact Report.
---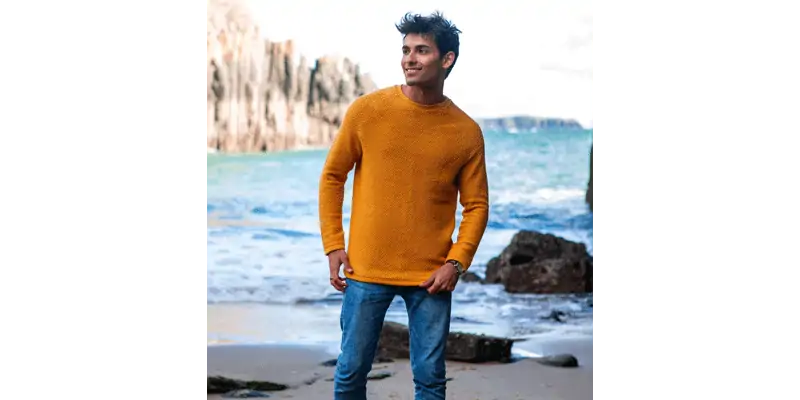 Rapanui is a sustainable brand seeking to change the fashion industry. Everything the brand makes is designed to be sent back when it is worn out and they make new products from the materials they recover.
Rapanui's Knitted Fisherman's Jumper is made from certified organic cotton with a chunky knit to be breathable, warm and made to last.  The sweater is made in a renewable energy powered factory audited for a wide range of social and sustainability criteria.  
---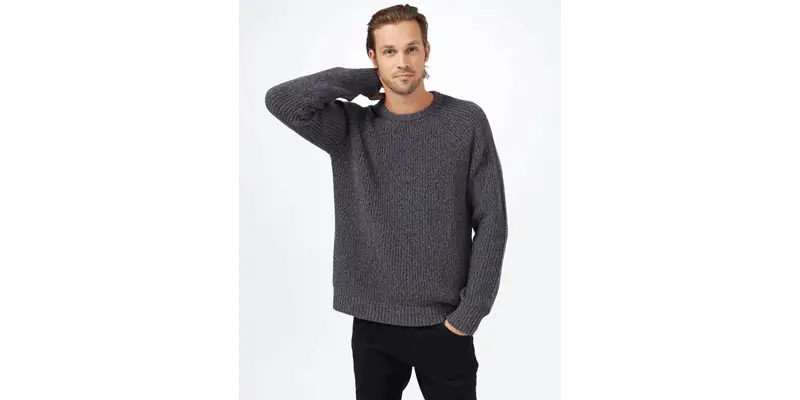 Tentree's men's sweaters are made from 100% organic cotton or a blend of organic cotton, recycled polyester and wool. Tentree is a Certified B Corporation that has planted over 50 million trees and has a goal of planting a billion trees by 2030. For every product sold, Tentree partners with charitable organizations across the world to plant ten trees and rehabilitate natural ecosystems. In addition to planting trees, TenTree is committed to using sustainable materials and transparency in its ethical manufacturing practices.
---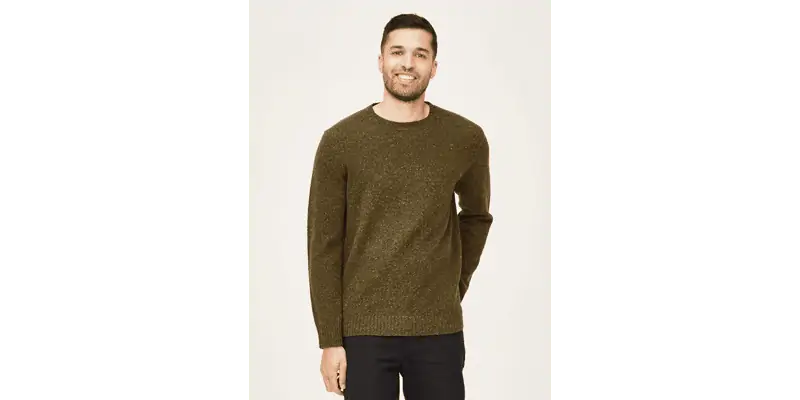 Thought is a sustainable brand that makes a wide range of sustainable and ethical women's and men's apparel, including some classic-looking men's sweaters. Their sweater materials range from organic cotton, to lambswool and recycled wool. Thought has partnered with Triad, a UK-based nonprofit, to include a Triad postage label in every shipment. Customers can use the label to send in any clothing that they want Triad to re-enter into the circular economy.
---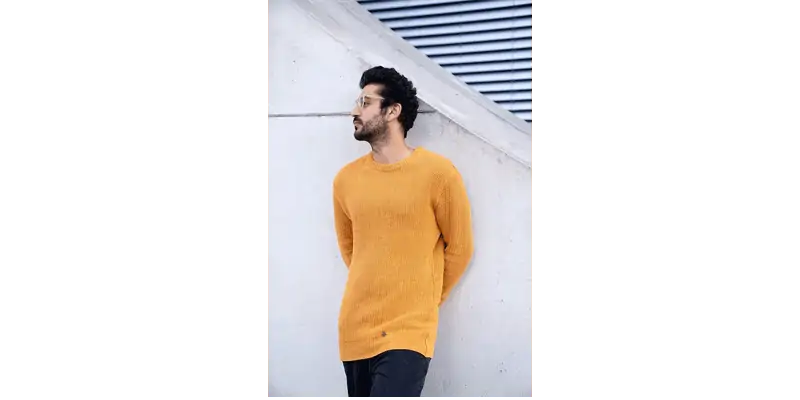 Bewusst is a German brand that makes everything from hemp, including its 100% soft knit sweater. You can get the sweater in natural, undeyed color, or a handful of colors made with GOTS certified dyes. The brand touts an impressively long list of benefits of hemp, including its strength, durability, natural antimicrobial and anti-order properties. Most intriguing though is the idea that hemp has the same "fine electric voltage level" as human skin, making it more comfortable to wear than synthetics that cause body hair to stand up and stress the skin. 
---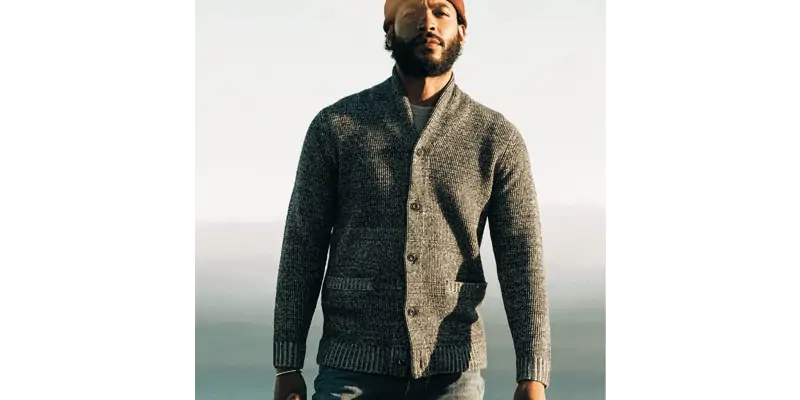 Taylor Stitch seeks to make a positive impact on sustainable fashion by making clothing that is made to last and will fit in anywhere. By focusing on classic styles and durability, the brand promotes purchasing quality over quantity to minimize waste. Their sustainable men's sweater styles range from fisherman's knit and classic cable knit to timeliness cardigans. Made from merino wool, alpaca, and cotton their sweaters will never go out of style and are designed for the long haul.
---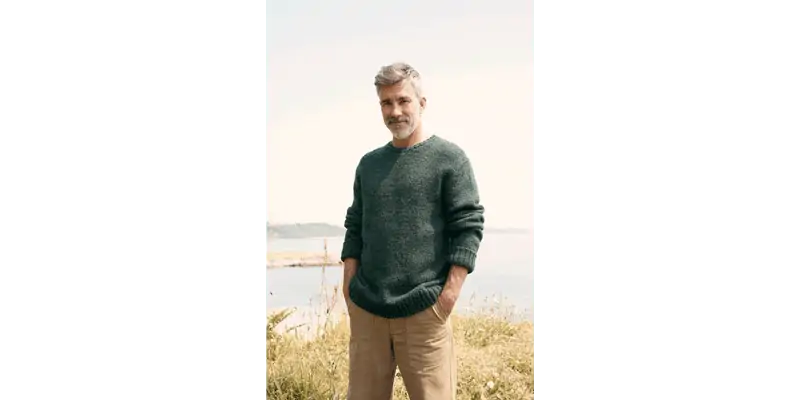 Seasalt is a clothing company from Cornwall, England that is equally proud of its heritage and its commitment to sustainability. The brand's style reflects the wild landscape and maritime heritage of the English coast. Their wool, fisherman-inspired sweaters are both classic and rugged. 
The company has a broad range of sustainability initiatives including robust giving and volunteering programs, ambitious environmental commitments, supplier transparency and it releases details in their Sustainability Report. 
---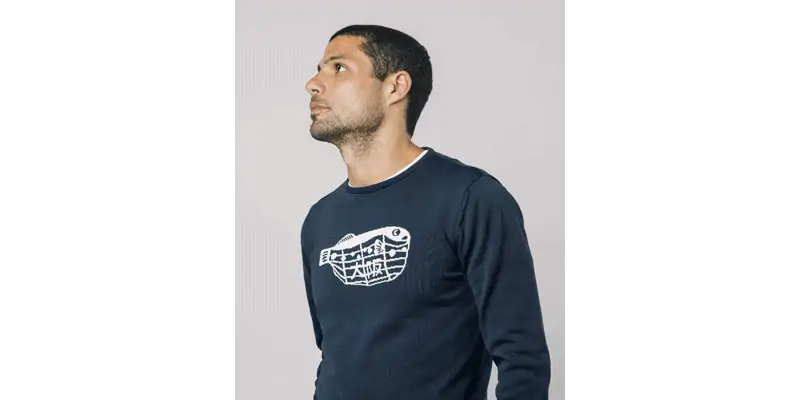 Brava makes some of the most playful sustainable men's sweaters that you can find. Their lineup includes sweaters featuring imagery from blowfish to curry to Popeye. The brand also offers more classic looking sweaters with no imagery. Brava makes its men's sweaters from a range of sustainable materials including 100% mulesing free merino wool, recycled wool, recycled cashmere and organic cotton. The company also provides supply chain transparency for every item they sell. To avoid using plastics, Brava also uses only recycled or recyclable cardboard for packaging. 
---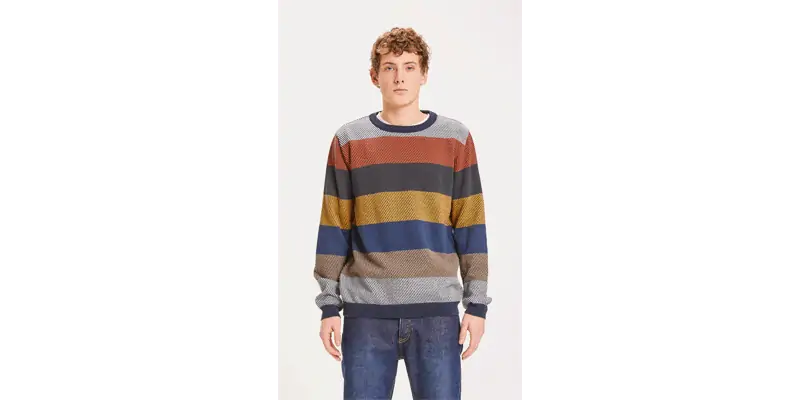 Knowledge Cotton Apparel is a Danish eco friendly apparel company that makes its men's sweaters from 100% cotton, as well as merino wool and blends of wool and cotton. With over 20 different styles, they cover the sweater spectrum from dressy to very casual. Founded in 2008 Knowledge Cotton Apparel has been dedicated to sustainability and fair labor since its origin. The company became Carbon Neutral Certified in 2019 and all of their garments feature a list of sustainability certifications on the tag, such as the Global Recycle Standard, Organic Content Standard, and many more.
---
Images via brands.