The Philosopher – Intentional Thought at Work
The Nordgreen Philosopher is a watch that demonstrates through every detail that less is more. The minimalist Danish design by Jakob Wagnerr honors both form and function to deliver an aesthetically modern classic. At the same time, the company's commitment to sustainability and giving back demonstrates a dedication to minimizing its impact on the planet while having a positive impact on people.  Let's take a thorough, hands-on look at the pros and cons of this Scandinavian watch and the company that makes it.
About Nordgreen
Nordgreen is a designer watch brand founded in 2017 in Copenhagen, Denmark. Its name is a combination of two words, Nord and Green. "Nord" represents the company's Nordic identity and "green" embodies their commitment to the environment. The intentional name of the company is clearly reflected in its products and business practices.
 Nordgreen's mission is to innovate and market responsible Danish design and lifestyle to the world. To do this, the company implements progressive Corporate Social Responsibility practices and creates elegant, minimalist watches by Chief Creative Designer Jakob Wagner.
Who is Jakob Wagner?
Jakob Wagner is a Copenhagen native with a very established and awarded design career. He has demonstrated his expertise in designing high-tech products for medical, professional, sports applications and home products. Wagner has designed for many respected brands including Alessi, Bang & Olufsen, Menu, Muuto, Stelton, Cappellini, B&B Italia, Moros, Hay and many others.
Wagner's career has been decorated with numerous awards including 6 IF awards, Bundespries, Designer of the Year, and 3 Red Dots including one for Nordgreen.  His work is also part of a permanent exhibition at MOMA, New York.
Nordgreen's Sustainability Commitment
In the Nordic region, sustainability is a way of life and Nordgreen is incorporating this every day into how it does business. Their Copenhagen office is carbon neutral, sourcing 100% of its electricity from wind power. The office is energy efficient, makes use of recycled supplies and materials and the company plans to make every aspect of its business carbon neutral. 
Nordgreen states that all watch straps are produced with environmentally friendly methods to reduce chemical pollution. Their vegan leather straps are made of blended cotton and polyester to ensure the texture, quality and durability. It would be great to see more detail from Nordgreen on these efforts, like if the cotton used is organic and if the leather tanning process is chrome-free.
Fair Labor Practices
Nordgreen watches are designed in Denmark and, according to the company, are manufactured in a PRC Danish-owned factory in Shenzhen, China that adheres to the highest standards while following Danish labor practices. All employees there are protected by local union agreements and the manufacturer is audited every quarter. 
Nordgreen's messaging around fair labor is very positive. It would be great to see more transparency in their supply chain and accreditation with independent labor practice organizations like the Fair Labor Association.
Giving Back Program
Nordgreen offers a robust "Giving Back" program. With each purchase, customers can select one of three causes to support through Nordgreen's program. 
New watch owners can support providing clean water in Africa, Education in India or preserving rain forests in Latin America. This does not require an additional contribution from the purchaser, but is included in the price of each timepiece. 
Nordgreen estimates that their efforts during 2020 resulted in approximately 900,000 square meters of preserved rainforest in Latin America, 33,000 months of education provided to children in India and 64,000 months of clean drinking water given to families in the Central African Republic.
In addition to the Giving Back Program, Nordgreen also has a number of admirable CSR (Corporate Social Responsibility) partnerships. They have partnered to provide needed meals, donate facemasks during the pandemic, clean plastics from the ocean, donate books, plant trees and more with organizations like Kakao and Friends, Fuel Them LA, Peace Winds Japan, ThanksGive, Social Bite, One Tree Planted and more.
The black dial Philosopher watch reviewed here is also a limited release collaboration between Nordgreen, Christopher and World Child Cancer.  Nordgreen partnered with Danish singer Christopher, who is an advocate for causes that help treat children's cancer. Together they worked with World Child Cancer to donate a round of chemotherapy to a child in need from a developing country for each watch sold, resulting in over 2,000 rounds of chemotherapy to children in Africa, Asia and Central America.
Style and Dial
The Philosopher can be customized in a number of ways from the case color, to the dial color, to strap variations. The model being reviewed here is the 40mm, black dial with brown leather 20mm strap and olive green nylon strap. As mentioned, this is the Nordgreen x Christopher collaboration limited release. 
Upon opening the solid, slide-out packaging, the initial impression of the watch is that of casual sophistication. The minimalist design of the watch face featuring a simple two-piece dial with a date display suggests a level of refinement without being pretentious.
Looking closer, you'll notice an asymmetrical second hand featuring a grey base and orange tip that is very distinct from the silver colored minute and hour hands. My first impression was that this took away from the elegance of the design. However, after wearing the watch for a bit, I really like this detail. The unique second hand actually makes the watch feel very unique, keeps it casual, and adds a more contemporary and progressive design.
A little exploration on nordgreen.com reveals that the orange tip of the second hand is actually part of the charitable collaboration. It symbolizes the mission of World Child Cancer, a nonprofit that builds and funds partnerships that link together hospitals in the developed world with childhood cancer units in developing countries.
In addition to incorporating World Child Cancer's brand colors, the orange also represents the urgency required in current time to undertake change-enforcing actions. What an inspiring reminder when you view your watch to check the time.  The logo of World Child Cancer is also engraved on the back of the watch acknowledging the partnership and support provided to children in need through this inspiring partnership.
Movement
All Nodgreen pieces are fitted with a Japanese quartz movement. The company sources its Japanese quartz movements from Miyota, a watch maker that is well recognized around the world and also embraces Nordgreen's passion for sustainability.
The quartz movement means that the watch is battery operated and the second hand moves in individual ticks. While quartz movement isn't considered as artistic and high end as the mechanical movement on luxury watches, the benefits of a quartz movement are that they are low maintenance, less expensive and durable.
The downside from a sustainability perspective is the reliance on batteries. Watch batteries usually last about two years and usually end of in landfills a few short years after their creation.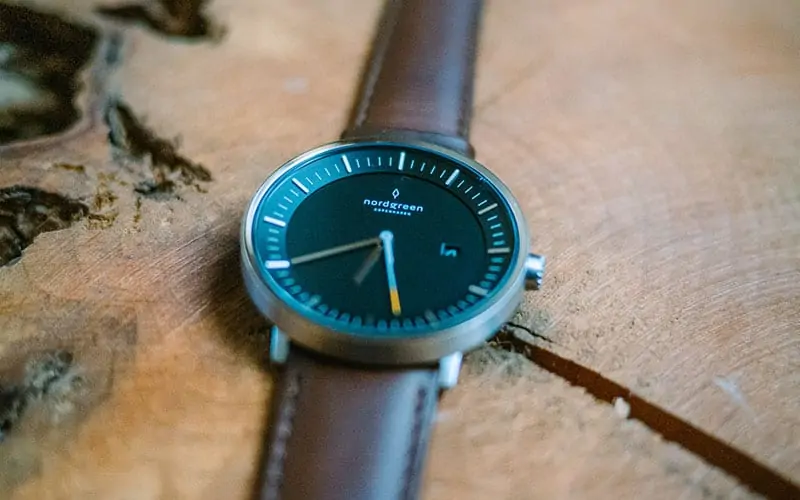 Materials and Craftsmanship
The case of the Philosopher is made from 316L Stainless Steel. 316L is hypoallergenic and surgical grade steel.  The finish on the Philosopher is a brushed steel, which has a more rugged aesthetic than polished steel that I really like.  The combination of the brushed steel with the elegant, minimalist design really make a very versatile watch.
The watch in this review is new, so it's difficult to speak to its durability, but all Nordgreen watches carry a two-year warranty. The Philosopher is water resistant up to 3ATM, which is essentially splash or rain resistant. The Philosopher does not include a domed sapphire crystal so may be more susceptible to scratches. Hopefully the low-profile design mitigates that.
Comfort
The Philosopher is a great balance of weight and comfort. It's heavy enough to instil a sense of quality and durability. Yet the low profile and lack of bulk make for a very comfortable wear. The size to weight ratio is perfectly dialed and maybe one of the best design aspects of the Philosopher. It's very easy to forget you're wearing the light and comfortable watch.
At 40mm, the watch case does not feel overly large at all, even on a smaller man's wrist. The lugs sit mostly underneath the case so they do not extend out and create extra length to the case. They are also low-profile, so they do not extend the case and it's weight away from the wrist, which keeps it nice and balanced.
The case sit's comfortably on the wrist weather using the NATO strap, which puts nylon between the case and the wrist, or using the leather straps which allow the back of watch to sit comfortably on the wrist.
Straps
This version of the Philosopher comes with a brown genuine italian leather 20mm strap with a silver buckle that matches the watch case. The spring bars have quick release pins making them easy to remove and attach to the watch case. To further support Nordgreen's environmental initiatives, it would be nice to see more information on if the leather is being created using eco-friendly practices. The utilization of recycled leather would be a great addition as well. Nordgreen does offer vegan leather straps separately.
The nylon straps are NATO-style, which means they are one-piece straps that slide through the spring bars. The color of the olive green strap is nice, and just a little lighter than anticipated. The construction seems comparable to other basic nylon NATO straps, except for the Nordgreen name detail on the silver buckle. 
The pairing of the elegant watch face with the low-key nylon NATO strap looks really great. It showcases the casually sophisticated but non-pretentious look mentioned earlier. The only down-side of the NATO strap is that it is not very easy to switch between a leather strap and a Nato-style strap. Putting the spring bars in by themselves before threading the NATO strap through requires precision and is a little tricky.
Packaging
The watch arrives in a sturdy, minimalist box featuring the company name and the signature of Danish singer Christopher.  The box also contains a nice card providing information on the partner NGO, World Child Cancer and a note from Christopher that praises you for "giving kids around the globe more time."
A pull tab slides out the inner box displaying the watch securely held down by elastic straps on a felt-like base. The felt is actually made from up-cycled plastic bottles which is a very nice feature. That and the cardboard case are FSC certified.  FSC (the Forest Stewardship Council) is an independent, non-profit organization that protects forests for future generations.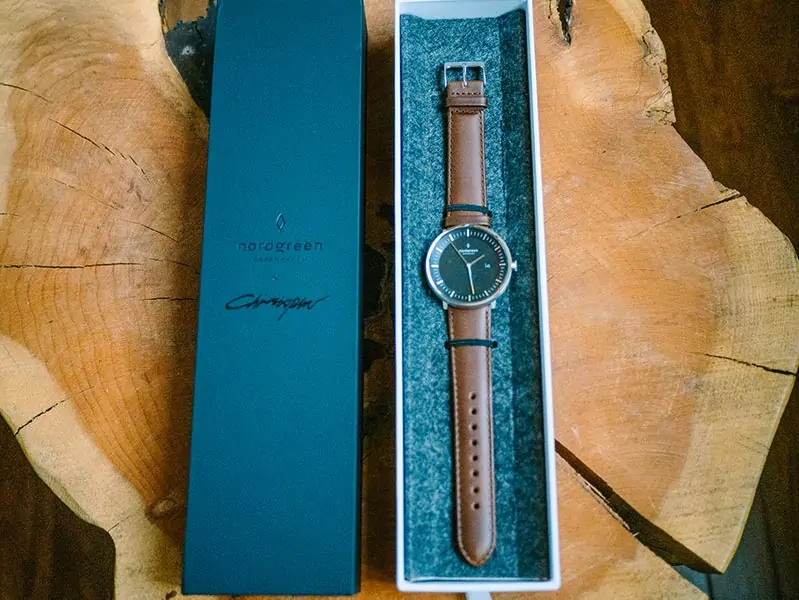 In addition to eco-friendly packaging, Nordgreen is working towards carbon neutral shipping through Flexport LCL, which provides 100% of proceeds to Carbonfund.org.
The Philosopher Specifications
Listed below are the full specifications and options for the Philosopher. The model being reviewed here is the 40mm, black dial with brown leather and olive green nylon 20mm straps. 
Case Thickness – 7.2mm / 7.84mm
Case Width – 36mm / 40mm
Case Material – 316L Stainless Steel
Case Color – Silver / Rose Gold / Gun Metal / Gold
Dial Color – White / Black
Movement – Japanese Quartz
Strap Width – 18mm / 20mm
Strap – Leather / Nylon / 3-Link / 5-Link / Mesh
Strap Color – Many options. This model: Brown / Olive Green
Interchangeable Straps – Yes
Water Resistant Up to 3ATM (Rain Resistant)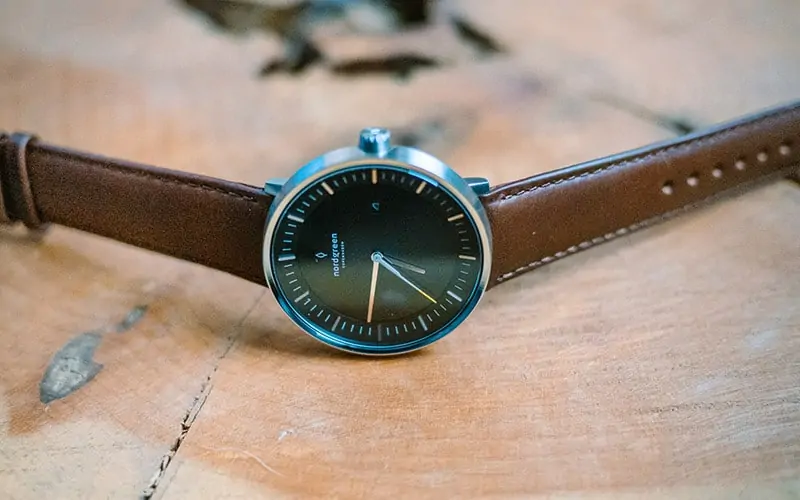 Price
The Philosopher Black Dial with brown leather strap is priced at $229 USD. And the additional nylon strap retails for $29. Additional 3-link straps cost $74 and leather or mesh straps are $49. Vegan leather watch straps go for $59 and rubber straps can be purchased for $29. There are also numerous bundles that include an extra strap or two that offer a 20% savings.
Gear and Good readers can get 15% off by using discount code: GANDG.
Summary
Pros
The Philosopher is very comfortable and well balanced.
Because the design is minimalist, elegant and unpretentious, the watch is very versatile. It Looks great with any outfit and can be dressed up or down.
Nordgreen's commitment to sustainability and social causes make it a positive impact business you can feel great about supporting.
Cons
Switching between the leather strap and the nylon nato-style straps can be a little tricky.
While it clearly has a strong commitment to positive social impact, it would be great to see more transparency and detail in Nordgreen's supply chain and manufacturing practices.
Conclusion
Overall, the Philosopher is a great looking minimalist watch that is very comfortable and versatile. Nordgreen's commitment to quality and sustainability make it a purchase you can feel very good about. And the collaboration with Christopher and World Child Cancer is executed beautifully in the design and is an admirable cause to support.
Disclosure: this is a sponsored posts containing affiliate links. Courtesy product from Nordgreen was received in exchange for an honest review.